UMD's Wiese Chosen Liberty Mutual Coach of the Year for NCAA Division II Football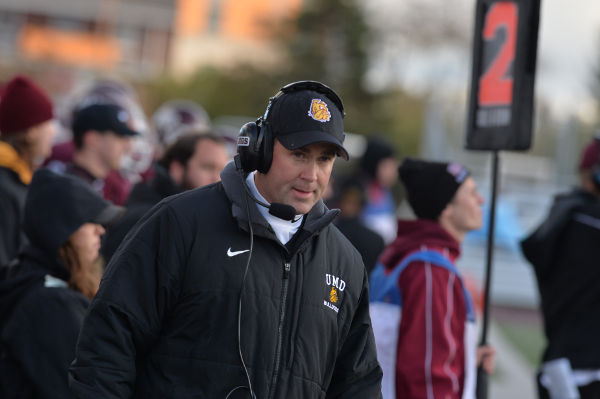 Coach Curt Wiese
DULUTH, MN – Curt Wiese's first season as head football coach at the University of Minnesota Duluth (UMD) was stamped with the ultimate reward today in Newport Beach, Calif., as Liberty Mutual Insurance, in partnership with the National Football Foundation and the College Football Hall of Fame, announced Wiese as the 2013 Liberty Mutual Coach of the Year Award winner for Division II. The Liberty Mutual Coach of the Year Award is the leading college football honor recognizing coaches for their responsibility, integrity, sportsmanship and excellence, on and off the field. Coach Wiese is the second Bulldogs coach to earn the Liberty Mutual Coach of the Year Award, joining current Western Illinois University head coach Bob Nielson (2010).
As Coach of the Year, Liberty Mutual will award Coach Wiese $50,000 to support his favorite charities and $20,000 in scholarship to the UMD Alumni Association. Coach Wiese has selected PAVSA, a local organization dedicated to the elimination of sexual violence in Southern St. Louis County; UDAC, a state human services organization that offers programs and services to adults with intellectual and physical disabilities; the Boys and Girls Club of the Northland; Men as Peacemakers, an anti-violence group that fosters and develops peacemakers through modeling and mentoring; and Peace in Christ Lutheran Church in Hermantown, Minn., as his award beneficiaries. Since 2006, Liberty Mutual Insurance has provided more than $2 million to support charities and alumni association scholarship funds on behalf of its Coach of the Year winners.
Coach Wiese's superior season and commitment to his players and community elevated him above a group of five Division II coach finalists through fan votes cast December 10-22 at CoachoftheYear.com and ballots from elite selection committees of national media and College Football Hall of Fame players and coaches. Fans votes contributed 20 percent to each coach's final score, and the media and College Football Hall of Fame accounted for 25 percent and 55 percent, respectively. The other 2013 Liberty Mutual Coach of the Year winners are Gus Malzahn, Auburn University (FBS), Craig Bohl, North Dakota State University (FCS) and Pete Fredenburg, the University of Mary Hardin-Baylor (Division III).
"We are excited to stand with the National Football Foundation and College Football Hall of Fame, as well as Bulldogs fans, to recognize Coach Wiese's role in helping his student-athletes achieve their full potential on and off the field of play," said Jim MacPhee, senior vice president and chief marketing officer, Liberty Mutual Personal Insurance. "Each year, our winners are able to positively impact their schools, communities and beyond through our award, and we are excited to further support Coach Wiese's good work as a Liberty Mutual Coach of the Year."
Coach Wiese's first season at the Bulldog helm continued a successful six-year run of double-digit victories and NCAA Division II playoff berths for UMD. The 2013 campaign ended with a loss to the eventual national champions, but not before the Bulldogs amassed 11 wins, captured their sixth consecutive Northern Sun Intercollegiate Conference North Division title, and secured a No. 8 national ranking in the final American Football Coaches Division II poll. Wiese's student-athletes also were successful in the classroom this fall, as 14 players earned NSIC All-Academic Team honors, including offensive lineman Andrew Pattock, who was named a first team CoSIDA Academic All-American.
Community service is a mainstay of Coach Wiese's program at UMD. This year, Wiese required each Bulldog to volunteer 10 hours in the spring and an additional hour in the fall, resulting in more than 1,100 total hours of community service by the team throughout Duluth. Coach Wiese and his staff volunteer their time at Goodwill Industries, the Damiano Center soup kitchen, Heritage Center Camps, Habitat for Humanity, local elementary school reading programs, and are Boys & Girls Club mentors.
"On behalf of UMD and the Bulldog football program, I want to thank Liberty Mutual for this award as well as for their commitment to college football and the coaching profession," said Wiese, a six-year member of the Bulldog coaching staff. "As a coach, you strive to help make a difference in the lives of your players and this award certainly emphasizes the value and importance of those efforts. I'm truly honored to have been chosen as this year's NCAA Division II recipient. I couldn't have won it without the hard work and dedication of our players, coaches and athletic department staff."