Communication Associate: Public Relations
| Lori Melton |
lmelton@d.umn.edu
| (218) 726-8830
---
April 16, 2014
Susan Maher | Dean of College of Liberal Arts | 218-726-8981| smaher@d.umn.edu
Lori C. Melton | External Affairs | 218-726-8830 | lmelton@d.umn.edu
New Book by UMD Dean Focuses on "Flyover Country"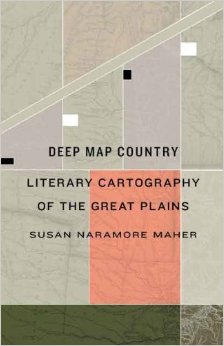 Duluth, MN – An in-depth exploration of an often overlooked region is offered in Sue Maher's new book "Deep Map Country: Literary Cartography of the Great Plains." It's published by the University of Nebraska Press and is available online.
"Deep Map Country" compiles the work of 10 writers who are deeply embedded in the Great Plains. Some of the writers are very well known, like William Least Heat-Moon, and others are emerging, but all are contributing to a well-established genre. "There is a rich literary tradition that has been building in the Great Plains for a long time. All of these writers love the places they're writing about," says Maher.
Maher's interest in the Great Plains began in the 1980s when she transferred from Madison, Wis. to the University of Nebraska at Omaha and wanted to learn as much as she could about her new home. By the year 2000, the idea of the book had coalesced.
That idea developed into the first book of its kind; "'Deep Map Country' is a different kind of book that's written on the plains," says Maher. "No one's looked at these contemporary writers in quite this way. No one's grouped them together for examination of environmental writing across a couple generations, looking at the aftermath of settlement."
"Deep map" is a writing style that combines science, memoirs, cultural and natural history writing about a specific location. The name comes from the subheading of William Least Heat-Moon's "PrairyErth."
Susan Maher is the dean of UMD's College of Liberal Arts. In addition to "Deep Map Country," she coedited "Artifacts and Illuminations: Critical Essays on Loren Eiseley" and "Coming into McPhee Country: John McPhee and the Art of Literary Nonfiction."