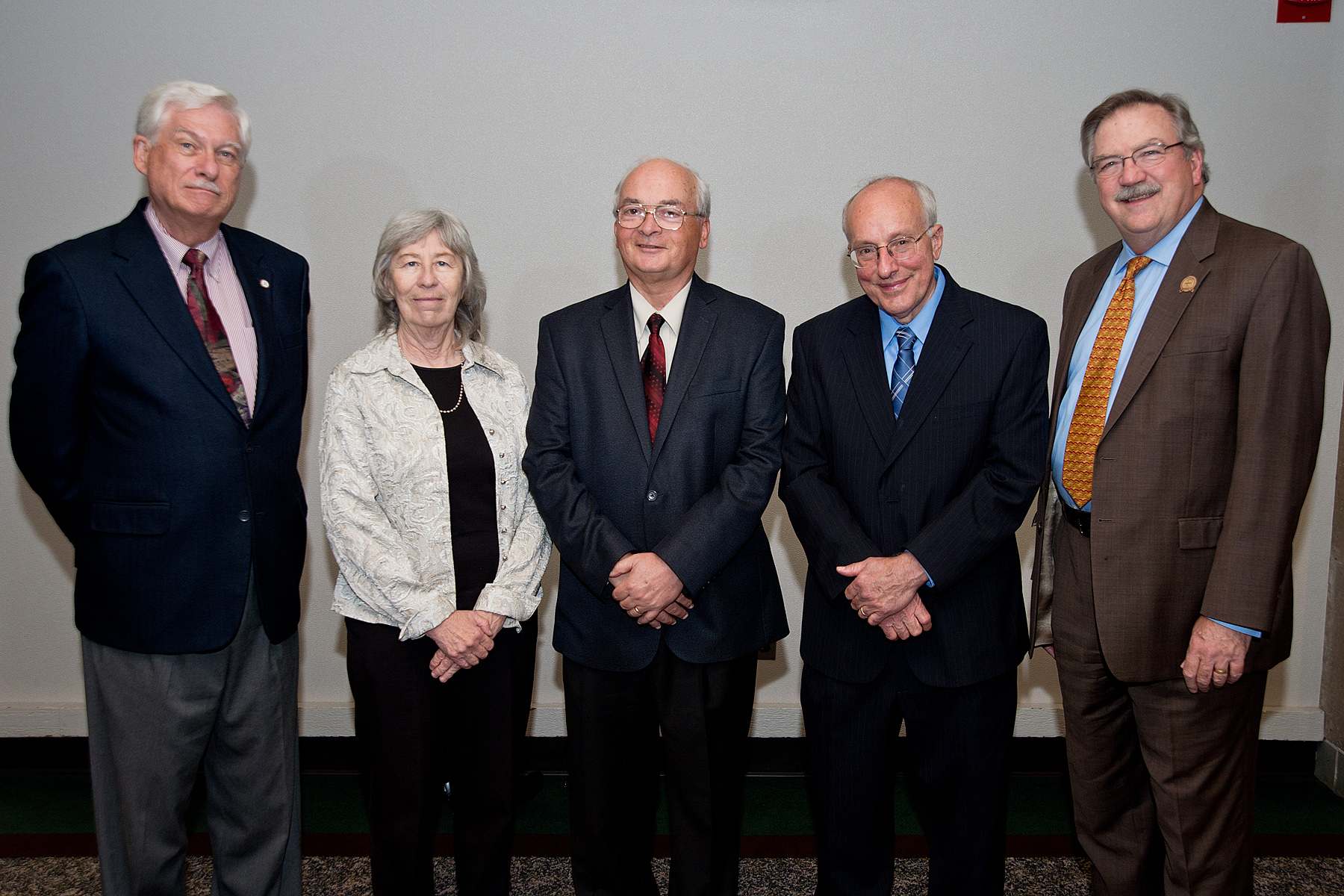 Photo caption, (Left to Right): Klaus J. Schulz, Peggy Chun, SCSE Dean James P. Riehl, Joseph Gallian, Chancellor Lendley C. Black.
The College of Science and Engineering at the University of Minnesota Duluth (UMD) recently honored four alumni and one professor with induction into the UMD Academy of Science and Engineering.
The ceremony for the new members was held on Friday, September 20, 2013.
On Friday, September 20, 2013, the Swenson College of Science and Engineering (SCSE) at UMD honored four alumni and one professor with induction into the UMD Academy of Science and Engineering.
SCSE Dean James P. Riehl said the academy gives recognition to UMD leaders. "In addition to acknowledging the achievements of our outstanding alumni, faculty, and friends, it reminds us all of the impact that they have on the lives of our students, and most importantly, our students see examples of what they can become."
The Swenson College of Science and Engineering inducted five members into the Academy of Science and Engineering for 2013:
Peggy Chun: Physics
Chun graduated from UMD in 1969 with Bachelor of Arts and Bachelor of Science degrees in Physics. As an undergraduate, she did her research in atmospheric physics with Professor Don Olson.
She spent her career working in government research facilities, in atmospheric physics, and jet propulsion. She began at the China Lake Naval Weapons Center where she worked on fog suppression, abatement of Los Angeles smog, alternative energy, and air breathing propulsion.
Chun continued her work on propulsion systems when she transferred to the NASA Flight Research Center at Dryden, California, in 2002. There she headed the Systems Engineering Office until 2004, working on the "Hyper-X" hypersonic vehicle, which achieved the Mach 10 speed record. In 2004, she was appointed to the NASA Engineering and Safety Center, which was organized after the Shuttle Columbia tragedy, resolving problems in the Space Shuttle, NASA aircraft, space telescopes, and the Space Station.
She retired in 2008 and now works as a consultant to the Jacobs Technology Company.
Joseph Gallian: Mathematics and Statistics
Gallian, a professor at UMD since 1972, has had his work funded by the National Science Foundation for 35 years, as well as the National Security Agency for 28 years. He is past-president of the Mathematical Association of America (MAA) and an inaugural Fellow of the American Mathematical Society. Gallian has degrees from Slippery Rock State College, the University of Kansas, and Notre Dame.
Every summer during that time, he has run a Research Experience for Undergraduates (REU) program at UMD, which is one of the longest running and oldest REU's in the country. More than 200 papers written by undergraduates under his supervision have been published in professional level journals.
He is the author of three books, the editor for three books, has published more than 100 articles, and has given over 250 invited lectures. Gallian has received teaching awards from the MAA, the Carnegie Foundation, and is also the recipient of the Morse Award from the University of Minnesota.
Alan Nelson: Chemical Engineering
Nelson is a registered professional engineer and a 1997 graduate of UMD, with Bachelor of Science degree in Chemical Engineering. He received his Ph.D. in Chemical Engineering in 2001 from Michigan Technological University and completed the MIT Sloan School of Executive Education Clean Energy Ventures Program in 2011.
He was an associate professor of chemical engineering at the University of Alberta, where he held the NSERC/ Imperial Oil Associate Industrial Research Chair, and principal investigator for the Centre for Oil Sands Innovation.
Nelson currently directs performance monomers R&D for the Dow Chemical Company, a global business with revenues exceeding $1.8 billion. Previously, he was R&D director for Dow Energy Materials, launching Dow's lithium ion battery materials business. He was also R&D director for engineering sciences in corporate research and development, responsible for Dow's global R&D capabilities in process engineering.
Klaus J. Schulz: Geological Sciences
Schulz received a Master of Science degree in Geology from UMD in 1977. He is a fellow member of the Geological Society of America and the Society of Economic Geologists and received the Goldich Medal from the Institute on Lake Superior Geology in 2003.
He is a research geologist in the Eastern Mineral and Environmental Resources Science Center of the U.S Geological Survey (USGS) in Reston, Va. He joined the USGS in 1982 and served as chief of the Branch of Eastern Mineral Resources from 1989 to 1996. His primary research area is the geology of Precambrian terranes, particularly in the Lake Superior Region.
He has gained worldwide recognition in metal resource estimation and authored or co-authored more than 80 publications. He has presented more than 100 technical presentations and invited lectures at national and international conferences. Schulz has also served as U.S representative to the International Union of Geological Sciences Sub-commission on Precambrian Stratigraphy and the IUGS-UNESCO Deposit Modeling Program Steering Committee. Prior to joining, Schulz was associate professor of geology at Washington University, St. Louis, and a National Research Council research associate at NASA.
Rik R. Tykwinski: Chemistry and Biochemistry
Tykwinski graduated from UMD in 1988 with a Bachelor of Science degree in Chemistry and received his Ph.D. in Organic Chemistry from the University of Utah in 1994. Following a post-doctoral appointment at the ETH in Zurich, Switzerland, he accepted a faculty position at the University of Alberta.
He holds the prestigious position of Chair 1 for Organic Chemistry at the University of Erlangen-Nuremberg (Germany). His research laboratory focuses on the development of innovative synthetic methods for oligo (enynes) and polyynes, characterization of their electronic properties, and potential applications.
Tykwinski has published over 140 journal articles and is currently the review editor for the Journal of Physical Organic Chemistry.
ABOUT THE ACADEMY
The Swenson College of Science and Engineering (SCSE) established the Academy of Science and Engineering Ceremony in 2002 to give public recognition to distinguished alumni and special friends of the Swenson College of Science and Engineering who have brought distinction to themselves through their participation, commitment, and leadership in their chosen profession. The SCSE has approximately 15,000 alumni and each year a handful of them are nominated by their departments for induction into the Academy of Science and Engineering. Since 2002, 51 members have been inducted into the Academy. "Our Academy members represent amazing achievements in medical research, entrepreneurism, science, and leadership. This event has become one of the most important dates on UMD's academic calendar and is the highest honor of the Swenson College of Science and Engineering," said SCSE Dean James P. Riehl.
Our mission: The University of Minnesota Duluth integrates liberal education, research, creative activity, and public engagement and prepares students to thrive as lifelong learners and globally engaged citizens.
UMD offers 140 undergraduate majors and minors and more than 30 graduate degree programs. During the 2012 school year, 11,491 students enrolled. Find UMD online: www.d.umn.edu