DIE FLEDERMAUS | Music by Johann Strauss II | English Libretto by Ruth & Thomas Martin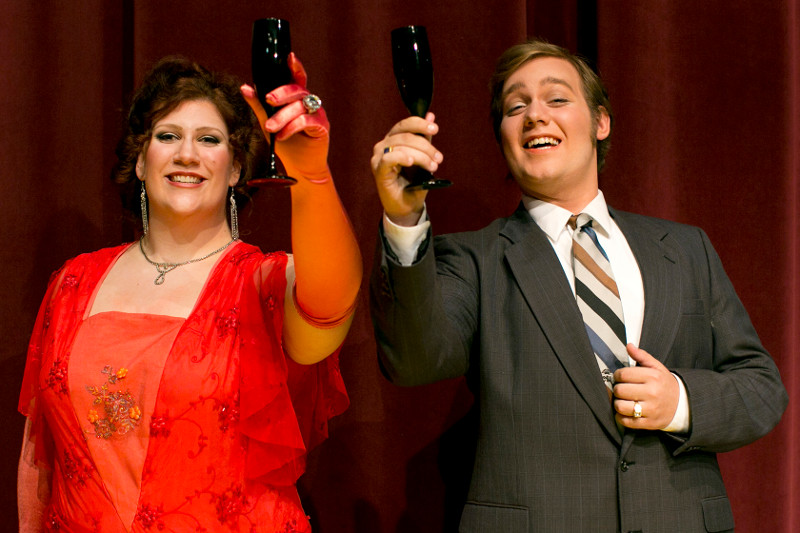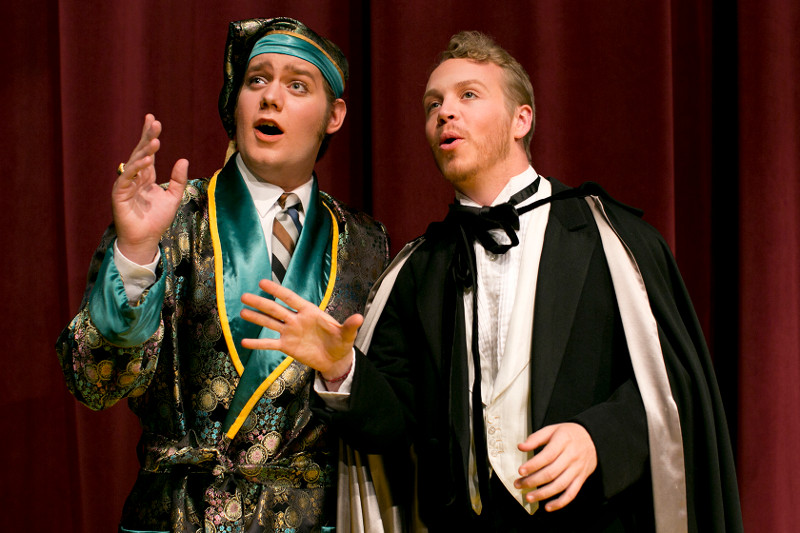 Presented by UMD Department of Music and UMD Department of Theatre
October 17 – 19, 2013 | 7:30 pm | Marshall Performing Arts Center, UMD
October 20, 2013 | 2:00 pm | Marshall Performing Arts Center, UMD
An operetta that's pure bliss and comedy relief. Sung in English, Die Fledermaus (The Bat) allows first timers and veterans of opera alike to revel in the glory of this fully-staged production on the mainstage of Marshall Performing Arts Center at the University of Minnesota Duluth. This production is a collaboration between UMD Department of Music and UMD Department of Theatre.
"It's best to blame it all on the champagne." A practical joke. A secret rendezvous. One man's elaborate plan for revenge which leads to a rousing evening of mistaken mishaps and identities, encapsulating a comedic masquerading operetta.
TICKETS: 218-726-8561 OR http://z.umn.edu/diefledermaus
Adult $18 | UMD Faculty/Staff $15 | Senior $13 | Student $8 | UMD Student $6. Group tickets prices are also available. Please call the box office for further information.
Director's Notes
What could be more enticing than a romantic waltz in the arms of the one you love? Johann Strauss, simply known as the Waltz King, composed waltzes, polkas, marches, quadrilles: that is, music to delight the ears as well as the feet. He also wrote numerous operettas, the most memorable being A Night in Venice, The Gypsy Baron, and Die Fledermaus.
"The Bat" had its premiere in 1874 in Vienna with much success, and has since become one of the most performed operettas in the repertoire. Witty dialogue originally written by Haffner and Genee, here in an English translation by Ruth and Thomas Martin, frames delightful musical numbers.
Die Fledermaus is one of those "who has tricked whom" pieces. It will keep your toes tapping and your heart singing until the glorious end!
—Alice Pierce, Director of Die Fledermaus
CAST LIST
Aliese Hoesel (10/18, 10/20) | Rosalinde
Amanda Bush (10/17, 10/19) | Rosalinde
Zachary Winkler | Eisenstein
Erin Miller | Alfred
Catherine Brown (10/18, 10/20) | Adele
Kayla Mudgett (10/17, 10/19) | Adele
Luke Votava | Frank
Robert Banks | Falke
David Knoblauch | Blind
Christina Christensen | Orlovsky
Anna Torgerson | Sally
Josiah Thompson | Ivan
Brian Saice | Frosch
Jacqueline Holstrom | Piano Player
CHORUS
Leah Carlson, Soprano
Nicole Alis Stevens, Soprano
Lauren Severson, Soprano
Michelle Miller, Alto
Emma Larson, Alto
Lisa Holman, Alto
Seth Hannasch, Tenor
Jared Walz, Tenor
Jacob Lindig, Tenor
Phillip Hoelscher, Baritone
Thomas McDanel, Baritone
DANCERS
Megan Brass
Maeggie Licht
Heather Hubert
Josiah Thompson
SYNOPSIS:
Place: near Vienna | Time: 1920s
Act 1 | Room in a summer villa of Eisenstein
Gabriel von Eisenstein has been sentenced to eight days in prison for insulting an official, partially due to the incompetence of his attorney, Dr. Blind. Adele, Eisenstein's maid, receives a letter from her sister, who is in the company of the ballet, inviting her to Prince Orlofsky's ball. She pretends the letter says that her aunt is very sick, and asks for a leave of absence. Falke, Eisenstein's friend, arrives to invite him to the ball. Eisenstein bids farewell to Adele and his wife Rosalinde, pretending he is going to prison but really intending to postpone jail for one day and have fun at the ball.
After Eisenstein leaves, Rosalinde is visited by her lover Alfred, the singing teacher who serenades her. Frank, the governor of the prison, arrives to take Eisenstein to jail, and finds Alfred instead. In order not to compromise Rosalinde, Alfred agrees to pretend to be Eisenstein and to accompany Frank.
Act 2 | Hall in Orlovsky's Palace
It turns out that Falke, with Prince Orlofsky's permission, is orchestrating the ball as a way of getting revenge on Eisenstein. The previous winter, Eisenstein had abandoned a drunken Falke dressed as a bat (and thus explaining the opera's title) in the center of town, exposing him to ridicule the next day. As part of his scheme, Falke has invited Frank, Adele, and Rosalinde to the ball as well. Rosalinde pretends to be a Hungarian countess, Eisenstein goes by the name "Marquis Renard," Frank is "Chevalier Chagrin," and Adele pretends she is an actress. The ball is in progress and the Prince welcomes his guests. Eisenstein is introduced to Adele, but is confused as to who she really is because of her striking resemblance to his maid.
Then Falke introduces the disguised Rosalinde to Eisenstein. During an amorous tête-à-tête, she succeeds in extracting a valuable watch from her husband's pocket, something she can use in the future as evidence of his impropriety. In a rousing finale, the company celebrates.
Act 3 | The Jail
The next morning they all find themselves at the prison where the confusion increases and is compounded by the jailer, Frosch, who has profited by the absence of the prison director to become gloriously intoxicated. Adele arrives to obtain the assistance of the Chevalier Chagrin while Alfred wants nothing more than to get out of jail. Knowing of Eisenstein's trickery, Rosalinde wants to begin an action for divorce.
Frosch locks up Adele and her sister Ida, and the height of the tumult arrives when Falke appears with all the guests of the ball and declares the whole thing is an act of vengeance for the "Fledermaus". Everything is amicably arranged (with Eisenstein blaming the intoxicating effects of champagne for his act of infidelity and Frank volunteering to support Adele's artistic career), but Eisenstein is compelled to serve his full term in jail.
(From Wikipedia, the free encyclopedia)