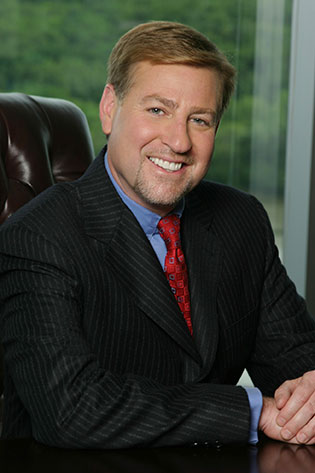 Richard Brown
DULUTH, MN — Richard Brown, senior fellow at the University of Minnesota Duluth's Labovitz School of Business and Economics (LSBE) and CEO of JNBA Financial Advisors, has been named the recipient of the 2013 New Generation Influencer Award by Financial Planning Magazine.
The Influencer Awards, which recognize advisors who have made significant contributions to the financial-planning profession, highlighted Brown's role in developing a unique partnership between academia, private business and corporate America. The TD Ameritrade Institutional Learning Lab at LSBE is giving students, with an interest in the financial planning industry, the hands-on experience they need to compete — and hit the ground running. JNBA teamed with TD Ameritrade Institutional and LSBE, where Brown teaches the semester-long capstone course of the school's new financial planning minor, to create the innovative, off-campus learning lab.
September 2013 marked the third anniversary of the lab, in which LSBE students manage real-life anonymous client scenarios in a working office, learn to use the tools of the trade, and participate in discussions with JNBA's financial advisors to understand how to work with clients and help them develop plans to meet their financial goals.
"It's extremely gratifying that the Learning Lab is being recognized by the financial-planning industry for its role in cultivating the next generation of well-prepared advisors," Brown said. "I'm honored to accept this award on behalf of the hundreds of people who have worked to make it a reality." Earlier this year, for the fourth year in a row, JNBA was named to Barron's list of the 1,000 top advisors in the country. In the magazine's state-by-state rankings, Brown was ranked 2nd in Minnesota, up from 3rd in 2012. JNBA has also twice been named one of the nation's top 100 independent wealth advisors by Barron's and The Winner's Circle.*
ABOUT JNBA
Bloomington-based JNBA Financial Advisors, Inc., is an independent fee-only wealth management firm specializing in goal-directed asset management and financial planning for 35 years. Their advisory teams champion a team approach, reviewing client portfolios every ten business days and driving the planning process, including strategy development and implementation with estate, tax, and risk professionals as appropriate. For more information, visit www.jnba.com.
* As seen in the October 2013 issue of Financial Planning Magazine, the 07/20/07, 07/11/08, 2/22/10, 2/21/11, 2/18/12 and 2/18/13 issues of Barron's and the 8/27/07 and 8/18/08 issues of Minneapolis/St. Paul Business Journal. Rankings and/or recognition by publications should not be construed by a client or prospective client as a guarantee that he/she will experience a certain level of results if JNBA is engaged, or continues to be engaged, to provide investment advisory services, nor should it be construed as a current or past endorsement of JNBA by any of its clients. Rankings published by magazines, and others, generally base their selections exclusively on information prepared and/or submitted by the recognized adviser. A copy of JNBA's current written disclosure statement discussing advisory services and fees is available upon request from JNBA.