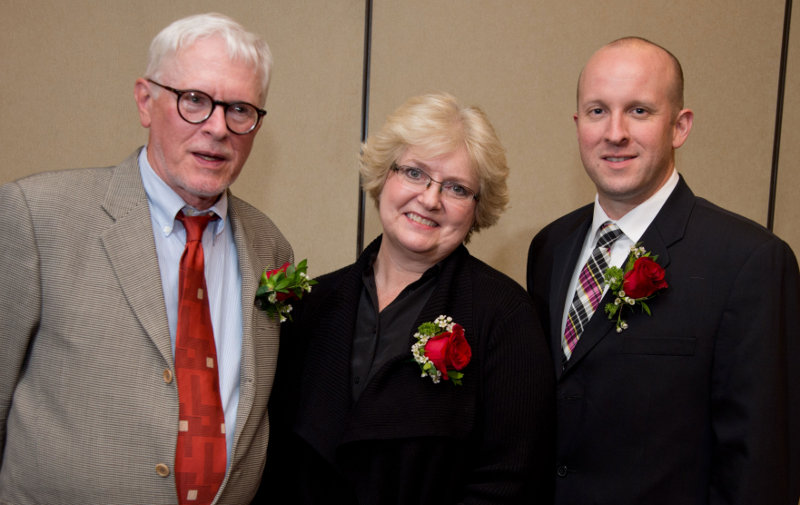 (l-r) Bill Shipley, Bonnie Flesland, and Chad Albers
DULUTH, MN — On Monday, September 30, 2013, the University of Minnesota (UMD) School of Fine Arts honored three alumni, Chad Albers, Bonnie Flesland, and Bill Shipley, into the Society of Prometheans.
"These alumni are inspiring examples of dedication and excellence in their respective fields. We are honored to recognize their accomplishments as graduates and as representatives of the School of Fine Arts," said William Payne, SFA dean.
Each year, SFA honors accomplished alumni and friends with its Society of Prometheans award. In Greek myth, Prometheus was a Titan who stole fire from the gods and gave it to man. This award recognizes those who have demonstrated success and passion in their chosen professions.
Chad Albers - Art and Design: Chad Albers has developed a significant professional reputation as a graphic designer in the retail arena, with work for high-profile industry giants such as Dayton-Hudson/Marshall Fields and Target, where he is a senior art director.
Albers is the holder of numerous design patents for his promotional work. His work has been featured in How and Print magazines, two important national design periodicals, and his work has won awards at the Paris Flea Market Retail Advertising Conference; AdFed: The Show; and the Minnesota chapter of AIGA, the professional association for design. Over his career, he has returned to UMD to advise and act as a role model for young designers, sharing his time and expertise with UMD design students.
Bonnie Flesland - Department of Theatre: Flesland has consistently pursued excellence as a wardrobe mistress on national and international tours, television, and video. She has worked as a costume designer for such celebrities as Prince, Janet Jackson, Tina Turner, Britney Spears, Cher, Carrie Underwood, and Aerosmith.
Flesland has worked for the Minneapolis Children's Theatre, the Dallas Opera, the Dallas Ballet, and Minnesota Dance Theatre.
Bill Shipley - Tweed Museum: Shipley's skills as a teacher, an artist, and an art historian have benefited the Tweed Museum, its visitors, and the artistic community for nearly a decade. He has been responsible for inspirational teaching of art by shedding light and understanding, through insight and research on the artworks of the Tweed Museum Collection. He has created important works of art that will benefit this and future generations as part of the Tweed's and numerous private collections.
Shipley has provided community service in spending many hours at the museum, especially on the weekends and special occasions, helping to keep the museum open to the public, welcoming visitors and offering dynamic and popular tours through the Tweed Museum year round. He has provided insight, counsel and guidance in the development of Museum programming and in recognizing artistic achievement. He has contributed to this regional art community in the form of networking and as a passionate advocate for artists.
Our mission: The University of Minnesota Duluth integrates liberal education, research, creative activity, and public engagement and prepares students to thrive as lifelong learners and globally engaged citizens.
UMD offers 140 undergraduate majors and minors and more than 30 graduate degree programs. During the 2012 school year, 11,491 students enrolled. Find UMD online: www.d.umn.edu