Communication Associate: Public Relations
| Lori Melton |
lmelton@d.umn.edu
| (218) 726-8830
---
June 6, 2013
Dr. Stanley Wold| Professor of Music and Director of Choral Activities | School of Fine Arts | 218-726-7504 | swold@d.umn.edu
Lori Melton | Communication Associate | External Affairs | 218-726-8830 | lmelton@d.umn.edu
UMD Professor Honored by Arrowhead Regional Arts Council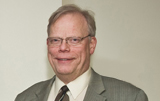 Dr. Stanley Wold

Dr. Stanley Wold, professor of music and director of choral activities at the University of Minnesota Duluth, has been named the 2013 Arrowhead Regional Arts Council's Maddie Simons Advocate Award winner. Wold will be recognized at a ceremony on Sunday, June 9 at 2 p.m. at The Underground, which is in the lower level of the Duluth Depot.

Each year the Arrowhead Regional Arts Council honors two individuals who have made significant contributions to the arts in the Arrowhead region.

Wold begins his thirtieth year of teaching at UMD in the fall and has been active in the Duluth music scene for more than 20 years. He has served as chorus master of the Duluth-Superior Orchestra and is the artistic director and conductor of the Arrowhead Choral.

In his work, Wold has continuously supported innovative music programing. The Arrowhead Regional Arts Council estimates that Wold has reached thousands of people through his advocacy for music.