Communication Associate: Public Relations
| Lori Melton |
lmelton@d.umn.edu
| (218) 726-8830
---
June 27, 2013
Lori Melton | Communication Associate | External Affairs | 218 726-8830 | lmelton@d.umn.edu
Gina Katzmark | Director of External Affairs | 218 726-6141 | katzmark@d.umn.edu
Brian McInnes Named Blandin Foundation Trustee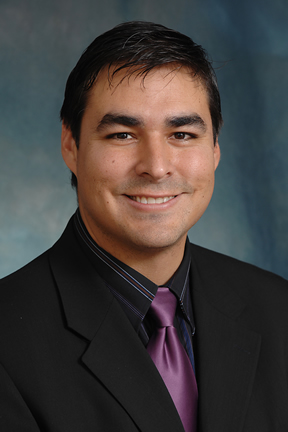 Brian McInnes

Brian McInnes, assistant professor, Department of Education, College of Education and Human Service Professions at the University of Minnesota Duluth (UMD), has been selected to join the Blandin Foundation's board of trustees, effective January 2014.

McInnes, an enrolled member of the Wasauksing First Nation, is an engaged community member, dedicated to diversity education, environmental awareness, youth engagement, Indigenous language and American Indian traditions and leadership. Among many projects, he leads the Minnesota Indigenous Youth Freedom Project, an initiative spurred by participants in the Blandin Foundation-convened American Indian Youth Summit in 2006. McInnes holds degrees from UMD and several Canadian universities: York University (Toronto), Lakehead University (Thunder Bay) and Trent University (Peterborough). He joined the faculty of UMD in 2006 as an instructor.

"During my interview process, Blandin Foundation board members talked about the communities they serve. These are the places our students come from. I felt it was a good fit between what I do at UMD and the work that the Blandin Foundation is doing," McInnes said. "I also appreciate that I could serve up to 12 years on the board. That is the perfect amount of time to work with the group collaboratively, conceive programs, make them happen and reflect upon the experiences. That's such a gift."

Before he begins his term, McInnes will have the opportunity to attend board meetings and a board retreat. "I am glad to have this time to gain a deeper understanding of the present work that the Blandin Foundation is doing. Their interest in building community really spoke to me. I have a strong interest in their Community Leadership Development program in particular." McInnes presently teaches leadership and ethics within UMD's Master in Tribal Administration and Governance program. "As a professional educator, any work that benefits students in schools and communities deeply resonates with me. I am very enthusiastic about this position. It is such an honor to join the board of trustees," he said.

"Brian is extremely committed to diversity, inclusion and intercultural understanding. I know he will offer thoughtful insights and perspectives to the Blandin Foundation board of trustees and will serve with distinction," said Lendley C. Black, UMD chancellor.

In addition to McInnes, two other Minnesotans, Kandace Creel Falcón, Ph.D. (Moorhead), William D. Maki (Bemidji), emerged from a statewide search. "Each of these individuals brings a deep background and passion for strengthening rural Minnesota communities," said Dr. Mike Johnson, chairman of the Foundation's board. "We very much look forward to engaging them in the Foundation's work ahead."

Blandin Foundation trustees are Minnesota-based community leaders who provide strategic leadership and governance, fiduciary and financial oversight for the Foundation. They represent a variety of perspectives from across rural Minnesota. McInnes, Creel Falcón, and Maki join 10 current Blandin Foundation trustees: Dr. Mike Johnson (Grand Rapids), Marian Barcus (Grand Rapids), Dr. Tim Bonner (Grand Rapids), Yvonne Cheek (Minneapolis), Kris Ferraro (Grand Rapids), Jim Hoolihan (Grand Rapids), Martin Jennings (Leech Lake Reservation), Dr. Heidi Korstad (Bigfork), Brian Nicklason (Grand Rapids), and Bonnie Besse Rietz (Austin). Background summaries for all Blandin Foundation trustees are available at the Foundation's web site, www.blandinfoundation.org.

About Blandin Foundation
Blandin Foundation stands with rural Minnesota communities as they imagine and claim ambitious, vibrant futures. Based in Grand Rapids, Minn., it is one of only a handful of foundations in the U.S. focused exclusively on rural communities and the largest rural-based private foundation in Minnesota. Information on Blandin Foundation grant-making, leadership development programs and public policy initiatives are at www.blandinfoundation.org. On Twitter at http://twitter.com/BlandinFound and facebook at www.facebook.com/BlandinFoundation.