Communication Associate: Public Relations
| Lori Melton |
lmelton@d.umn.edu
| (218) 726-8830
---
June 20, 2013
Robert Nygaard | Communication Director | University of Minnesota Duluth Athletics | 218-726-8191| bnygaard@d.umn.edu
Lori Melton | Communication Associate | External Affairs | 218 726-8830 | lmelton@d.umn.edu
Former Bulldog Softball Standout Becker Headed to NSIC Hall of Fame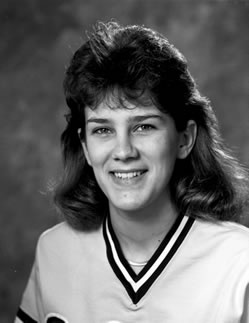 Patty Becker

University of Minnesota Duluth All-American softball second baseman Patty Becker is among eight individuals who will be enshrined into the Northern Sun Intercollegiate Conference Hall of Fame on July 10. The NSIC Hall of Fame Banquet will take place at the Best Western Kelly Inn in St. Cloud, Minn.

Becker is the 18th representative from UMD to be so honored.

Becker, a native of Hampton, Minn., became the first Bulldog to receive All-American softball recognition (NAIA first team in 1990 and NAIA honorable mention one year later) and the first to be named to the All-Northern Intercollegiate Sun Conference team on four occasions. She exited the UMD program owning lifetime marks for hitting (a .405 average), runs (138), hits (194) and sacrifices (51) while appearing in 157 games as the team's leadoff batter. As a senior in 1992, Becker set a then school-record for batting average (.484), hits (44), stolen bases (8) and sacrifices (10) en route to being chosen the Bulldogs' Most Valuable Player for an unprecedented third straight time and earning NCAA Division II All-Midwest first team honors. During her four-year career, she helped UMD claim three NSIC titles (and post a 34-1 league mark in the process) and qualify for two NAIA National Tournament berths.

Becker, who was the co-recipient of UMD's Outstanding Senior Female Athlete Award for 1991-92, went on to play a pair of seasons in the Women's Professional Fastpitch League with the Carolina Diamonds and Virginian Roadsters in 1997 and 1998. Nine years ago, she was inducted into the UMD Athletic Hall of Fame. Becker currently resides in Richfield, Minn., and works as a hospice care massage therapist. She's still active in competitive softball and will miss the NSIC Hall of Fame Banquet because of a playing commitment in Portland, Ore.

The class of 2013 also includes Elizabeth Mulvihill (Bemidji State University) , Kelley Owen (Minnesota State University-Moorhead), John Schultz (Minnesota State University-Mankato), Julie (Jensen) Rozell (Northern State University), Van Nelson (St. Cloud State University), Wayne Hawkins (Southwest Minnesota State University) and Merridith Duellman Joly (Winona State University).

For banquet ticket reservations, go to www.NorthernSun.org and fill out a Hall of Fame Banquet Form. Reservations are due by July 1, 2013 as space is limited for this event.