Communication Associate: Public Relations
| Lori Melton |
lmelton@d.umn.edu
| (218) 726-8830
---
December 16, 2013
Michele Larson | Administrative Specialist, English Department | 218-726-8228 | mlarson5@d.umn.edu
Lori C. Melton | Communication Associate, External Affairs | 218-726-8830 | lmelton@d.umn.edu
Annual Joseph Maiolo Holiday Reading to be held at UMD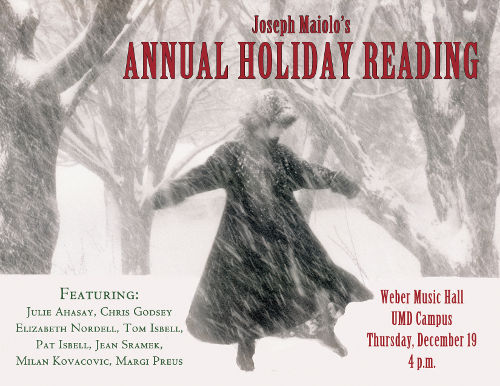 Duluth, MN – UMD will present the Joseph Maiolo Annual Holiday Reading on Thursday, December 19 from 4 to 5 p.m. in Weber Music Hall. This event is free and open to the public. Maiolo retired from the UMD English Department last spring after 37 years of teaching. He'll be at the event to sign copies of his books, but guests will be reading selections from Maiolo's latest book An Arch of Birches and Other Stories. The readers are UMD faculty and Duluth community members, including Tom and Pat Isbell, Milan Kovacovic, Chris Godsey, Elizabeth Nordell, Julie Ahasay, Jean Sramek, and Margi Preus.
Readers are using this opportunity to honor Maiolo and his many works. "Being a part of this event means the world to my wife and me," says Tom Isbell, a theater professor at UMD. "Joe is a treasure here at UMD, in Duluth, and as a representative of good writers everywhere. He's proof that great writing and a gentle spirit can indeed go hand in hand. He's a model for the rest of us."
An Arch of Birches and Other Stories is collection of short stories that represent a variety of subjects and settings, including northern Minnesota. An Arch of Birches and Other Stories is the fourth collection of Maiolo's short fiction published by Duluth's Overcoat Books. His other works include Boy•Youth•Man, Three Frays from Mallorca, and Saint Matthew in Appalachia.