Communication Associate: Public Relations
| Lori Melton |
lmelton@d.umn.edu
| (218) 726-8830
---
December 12, 2013
Andrea Schokker | Executive Vice Chancellor for Academic Affairs | 218-726-7103 | aschokke@d.umn.edu
Cheryl Reitan | Associate Director, External Affairs | 218 726-8996 | creitan@d.umn.edu
Four Sustainability Projects Funded by the Institute on the Environment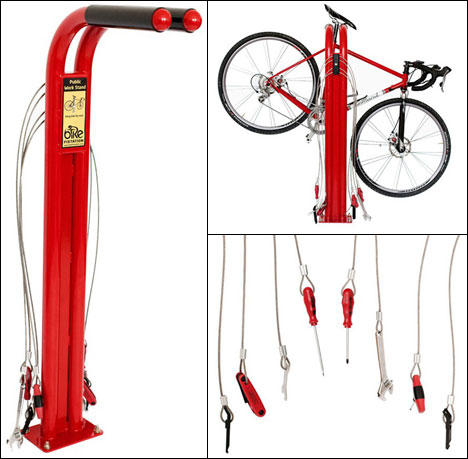 Two bicycle repair stations like this will be installed on campus.
DULUTH, MN – Bringing in a speaker to talk about growing a creative economy, assembling on-line sustainability resources, disseminating information about campus sustainability, and encouraging bicycle commuters with a repair station are four UMD interdisciplinary initiatives recently funded by the Institute on the Environment (IonE). The projects are among 19 which received funding in the fall 2013 round of the University of Minnesota IonE Mini Grant program.
IonE Mini Grants are designed to encourage collaboration among faculty, staff and students across University of Minnesota disciplines, units and campuses on environmental themes. Along with up to $3,000 in funding, each recipient is provided space for meetings, workshops and conferences and some administrative support for a year.
The projects include:
CULTURAL ENTREPRENEURSHIP SPEAKER SERIES 2013-14
Olaf Kuhlke, College of Liberal Arts
The Center for Cultural Entrepreneurship will bring an internationally renowned authority to speak to students about sustainable solutions in the growing creative economy.
ENHANCING INTERDISCIPLINARY RESOURCES FOR TEACHING AND LEARNING SUSTAINABILITY AT UMD
Dennis Falk, College of Education and Human Services Professions
Falk's project will focus on enhancing undergraduate sustainability courses by developing an online repository for resources from community and campus experts such as course syllabi and community-based learning opportunities.
COMMUNICATOR TO SUPPORT CROSS-DISCIPLINARITY IN CURRICULAR AND CAMPUS SUSTAINABILITY CONVERSATIONS
LeAne Rutherford, Instructional Development Service
The communicator will act as a hub of information on campus sustainability conversations, events and activities, aggregating and disseminating the information to instructors who can then incorporate living scholarship opportunities into their course requirements.
BICYCLE REPAIR STATIONS
Bryan French, Student Sustainability Coalition
The Student Sustainability Coalition will install two bike repair stations on the University of Minnesota Duluth campus to facilitate bike maintenance with the expectation that bicycle use will increase while decreasing motorized traffic on and around campus.