Communication Associate: Public Relations
| Lori Melton |
lmelton@d.umn.edu
| (218) 726-8830
---
April 3, 2013
Gina Katzmark | Director of External Affairs | 218 726-6141 | katzmark@d.umn.edu
Bob Nygaard | Sports Information Director | 218 726-8191 | bnygaard@d.umn.edu
University of Minnesota Duluth Names New Athletic Director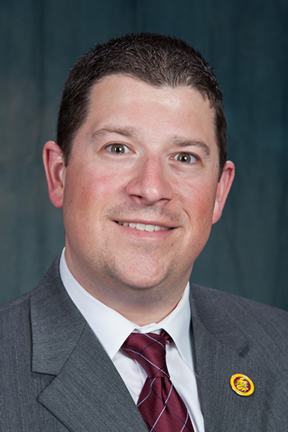 Josh Berlo

DULUTH, MN — University of Minnesota Duluth Chancellor Lendley "Lynn" Black announced today that Josh Berlo will assume the role of UMD's director of intercollegiate athletics.

Berlo comes from the University of Notre Dame where he was senior assistant athletics director for guest relations and event marketing. He has worked there for 12 years. In addition to having overseen all aspects of athletic event marketing, game presentation, fan experience and ticketing for 26 athletic programs, Berlo supervised a staff of approximately 40 and a combined budget of nearly $4 million. Berlo served as the sport administrator for Notre Dame baseball. Berlo is also on the Executive Committee of the highly-regarded Sports Management Institute.

"Josh has a proven track record of leadership in Division I athletics with strategic planning, budgeting, recruiting and hiring of coaches, NCAA compliance, academic mentoring of student athletes, and increasing resources for programs and facilities," said Chancellor Black. "He also understands the values and importance of Division II athletics. We believe his experience and skills will help foster the continued national prominence of UMD athletics and promote new levels of excellence."

"I want to personally thank the student athletes, coaches, faculty, staff and alumni who served on the search committee and faced the difficult task of selecting an athletic director from a nationwide pool of outstanding applicants," said Chancellor Black.

"I wish to express my sincere gratitude to Chancellor Black, Dr. Vince Magnuson and everyone involved in the search process," said Berlo. "My wife and I are very excited about coming to Duluth and joining the Northland and Minnesota community. I was drawn to the values of UMD and Bulldog athletics and am looking forward to furthering the traditions of national championships and academic excellence," he said.

Berlo is a native of Warren, R.I. He earned a bachelor's degree in sport management from the University of Massachusetts at Amherst and an MBA from the Mendoza College of Business at Notre Dame.

In 2008, Berlo earned the Notre Dame student government Irish Clover Award for outstanding service to the student body. He serves as advisor to the Leprechaun Legion Student Body Athletic Advisory Board.

He and his wife, Meg, will be relocating to Duluth from Mishawaka, Ind. Josh and Meg enjoy outdoor recreation, especially skiing, hiking, canoeing and mountain biking. They look forward to exploring the north woods.

As director of intercollegiate athletics, Berlo will supervise all UMD head coaches, staff and administrative personnel. He will also be responsible for developing and implementing a strategic plan, managing a departmental budget, directing the use of UMD athletic facilities, and leading fundraising and marketing efforts.

Now in its 82nd year of operation, the Department of Intercollegiate Athletics maintains one of the most competitive and well-balanced programs of its size in the country. Since 2000-01, the Bulldogs have won eight national championships and 46 conference titles.

UMD has 14 teams in NCAA Division II (baseball, men's and women's basketball, men's and women's cross country, football, women's soccer, softball, women's tennis, men's and women's indoor and outdoor track and field, and volleyball) and two teams, men's and women's ice hockey, in NCAA Division I.

Berlo's former colleagues have offered their congratulations and support.

"UMD has hired one of the rising young stars in the business. Josh will bring creativity, energy, and commitment to the student-athlete that will serve UMD well."
-Jack Swarbrick, vice president and director of athletics, University of Notre Dame.

"I've enjoyed working with Josh since my arrival at Notre Dame in 2010. Josh's exceptional internal and external abilities are two valuable traits that will serve him well as the new leader of UMD Athletics. A great hire."
- Brian Kelly, head football coach, University of Notre Dame, two-time Division II National Championship winner.

  "I am thrilled to hear that Josh is joining Bulldog Athletics. Having worked with him on a day-to-day basis at Notre Dame, he a is true professional and will be a great addition to the Duluth community."
-Dave Poulin, vice president, Toronto Maple Leafs, former Notre Dame head men's hockey coach.

"Simply put, Josh is inordinately empathetic, task oriented, highly adaptable, effective, and without question - he is overtly passionate about student athletes and their pursuit of excellence. Bottom line: Josh is a natural leader and will do a great job at UMD!"
-Dr. Kevin White, vice president and director of athletics, Duke University

Berlo will begin his new position on May 1.