Communication Associate: Public Relations
| Lori Melton |
lmelton@d.umn.edu
| (218) 726-8830
---
October 18, 2012
Cheryl Reitan | Associate Director of External Affairs | 218 726-8996 | creitan@d.umn.edu
Bruce Munson | Interim Dean, College of Education and Human Service Professions | 218 726-6537 | bmunson@d.umn.edu
Kathy Heltzer, MSSW, LICSW | Director of MSW Field Education, Department of Social Work | 218 726-8935 | kheltzer@d.umn.edu
Dawn Peterson Receives Outstanding MSW Field Supervisor and Civic Engagement Award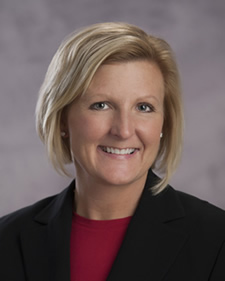 Dawn Peterson

Dawn Peterson, MSW, LICSW, was recently awarded the 2012 "Outstanding MSW Field Supervisor and Civic Engagement Award" by the Department of Social Work at the University of Minnesota Duluth.

The award honors a field supervisor who has shown exceptional personal and professional civic engagement, and goes "above and beyond" in their work with MSW students and in their communities. "Civic engagement" includes providing quality supervision to students completing their field placements, encouraging students' involvement in their communities both in their fieldwork and outside of field activities.

Peterson received her Master of Social Work from the University of Minnesota Duluth in 2005. A Licensed Clinical Social Worker, Dawn is the Clinical Director at Woodland Hills in Duluth and has provided clinical supervision to residential and day treatment programs at Woodland Hills since 2009. She started with Woodland Hills in 1989, providing supervision to youth at the Chisholm House Work Program.

Dawn was nominated by two MSW alumni for her commitment to social justice and civic engagement by her encouragement of field student's participation in a variety of community events including Take Back the Night, PAVSA, and discrimination and racism roundtables and discussions in the Duluth community.

Additionally, the alumni indicated that "Dawn will not give her field placement students the answer to their academic and philosophical questions, but she will challenge them to critically think in order to reach a conclusion on their own."

Dawn was recognized by the department and her peers at the Annual Fall Field Supervisor Training Luncheon on October 2, 2012.