Communication Associate: Public Relations
| Lori Melton |
lmelton@d.umn.edu
| (218) 726-8830
---
October 10, 2012
Cheryl Reitan | Associate Director of External Affairs | 218 726-8996 | creitan@d.umn.edu
Andrea Schokker | Executive Vice Chancellor for Academic Affairs | 218 726-7104 | aschokke@d.umn.edu
Karen Gran | Assistant Professor of Geological Sciences | 218 726-7406 | kgran@d.umn.edu
UMD Researcher Receives Water Sustainability Grant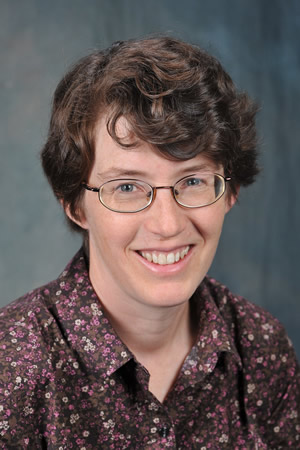 Karen Gran

University of Minnesota Duluth (UMD) researcher Dr. Karen Gran is one of the four researchers from the University of Minnesota who have been awarded a $4.3 million Water Sustainability and Climate grant from National Science Foundation (NSF). The five-year grant will be used to lead study of interactions between water and land-use systems and will specifically examine responses to changes in climate and the human impact of land and water management in the Minnesota River Basin.

Gran, assistant professor of geological sciences, UMD Swenson College of Science and Engineering, along with researchers from the University of Minnesota-Twin Cities and other institutions, will develop a framework for identifying and predicting processes, locations and times that are most susceptible to changes in climate and land use. The researchers have chosen the Minnesota River Basin as a location for their research because it encompasses an extremely broad spectrum of natural and human-induced rates of change and sensitivity to land-use practices. Of particular interest is the interaction between land use and river network processes. Many waterways already exceed recommended amounts of sediment and nutrients.

The Minnesota River basin is a young landscape, with rivers that are still evolving from incision of the Minnesota River valley at the end of the last glaciation. "This naturally-sensitive landscape is now susceptible to hydrologic changes, driven by both land use and climate change," said Gran. "One of our goals is to understand how these external drivers amplify erosion in naturally-sensitive areas such as high bluffs and steep ravines."

Because only 2.5 percent of earth's water is fresh water, and 98.8 percent of that is locked away in ice or hidden in groundwater, protection of fresh water is vital. Less than 0.3 percent of all fresh water is in lakes, rivers, and the atmosphere.

"This grant gives us the opportunity to work across disciplines, from geology to environmental economics. We can start to investigate the whole system: how agricultural economics may drive land use decisions that ultimately affect downstream changes in hydrology, geomorphology, and ecology.

In addition, an educational component of the grant will help develop materials for school children to broaden their understanding of environmental issues and develop the next generation of scientists and engineers. The educational component will also involve working collaboratively with the Science Museum of Minnesota to share what is learned with the entire community.

Gran is one of the Co-Investigators, while Efi Foufoula-Georgiou from the University of Minnesota-Twin Cities is the Primary-Investigator for the project. The other Co-Investigators from the University of Minnesota-Twin Cities are Jacques Finlay, associate professor of ecology, evolution and behavior and Gillian Roehrig, associate professor of science education and director of the Science, Technology, Engineering and Mathematics (STEM) Center.