Communication Associate: Public Relations
| Lori Melton |
lmelton@d.umn.edu
| (218) 726-8830
---
November 5, 2012
Cheryl Reitan | Associate Director of External Affairs | 218 726-8996 | creitan@d.umn.edu
Christiana Kapsner | UMD Public Relations Associate | 218 726-8830 | ckapsner@d.umn.edu
John Arthur | UMD professor sociology/anthropology, Chancellor's Office Faculty Fellow | 218 726-6358 | jarthur@d.umn.edu
Minnesota Supreme Court Justice Alan Page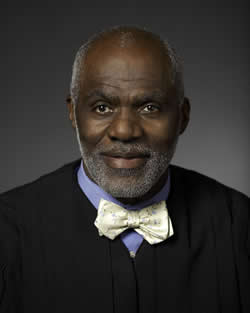 Minnesota Supreme Court Justice Alan C. Page

Panel discussion with campus and community members at UMD

As part of the UMD Chancellor's diversity initiative grant, the Thursday November 15 presentation at 11 am in the Kirby Student Ballroom will begin with UMD Page Scholars reading excerpts written by Maya Angelou and Langston Hughes.

Following the recital, Minnesota Supreme Court Justice Alan C. Page will join a panel discussion comprised of campus and Duluth community members including St. Louis County Public Defender Fred Friedman; 709 School District Representative Bill Gronseth; and, UMD Student Blair Moses. The topic will focus on "57 Years After Brown v. Board of Education: The Current and Future State of Black America."

This event is free and open to the public.

Free parking is available at Lot W off Junction and College.

Sponsors include the Chancellor's Diversity Initiative Grant, the Department of Human Resources and Equal Opportunity, the Department of Sociology-Anthropology, and African-American Student Programs.

About Supreme Court Justice Alan Page
Minnesota's first African-American Supreme Court Justice, Alan C. Page, was elected to the court in 1992. He was reelected in 1998, 2004, and 2010. Previously, he served as an assistant attorney general and a special assistant attorney general, and was an associate with the Minnesota law firm of Lindquist and Vennum.

Page is widely renowned for his former career as a professional football player. Elected to the Pro Football Hall of Fame in 1988, he is best known for his defensive efforts with the Minnesota Vikings in the 1970s.

Page, who attended law school at the University of Minnesota during the height of his football career, is an ardent defender of equal education for children. He is the founder of the Page Education Foundation, which assists students of color with post-secondary education.