Communication Associate: Public Relations
| Lori Melton |
lmelton@d.umn.edu
| (218) 726-8830
---
May 4, 2012
Cheryl Reitan | Associate Director of External Affairs | 218 726-8996 | ceritan@d.umn.edu
Christiana Kapsner | UMD Public Relations Assistant | 218 726-8830 | ckapsner@d.umn.edu
2nd Annual CHAMP Day of Service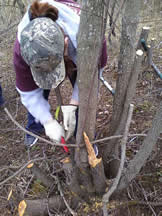 UMD volunteer at the Hartley Nature Center

UMD students, staff, faculty, and alumni went into the city to help

It's the second year of Chancellor Black's leadership, and the second year where UMD students, faculty, staff, and alumni stepped forward to volunteer for a variety of causes.

According to the volunteer hours tabulated in March 2011 for the first CHAMP (Connecting Hopes with Action to Mobilize People) Day of Service, the 2012 statistics almost doubled the 2011 effort, revealing an increase in projects and participation:
27 Projects
328 People (267 students, 61 faculty/staff/administrators/alumni)
1048 Hours
$22,835.92 Dollar Value of Volunteer Hours (based on the Independent Sector valuing each volunteer hour as $21.79 per hour).

"The turnout was fantastic," said Erin Zoellick, Community Engagement Specialist in UMD's Office of Civic Engagement. "Everyone enjoyed the day, and the outreach was more than just successful. The volunteers really helped non-profit organizations in Duluth. They really made a significant difference."

The following UMD Departments volunteered throughout Duluth, and they included staff, faculty, and alumni; two of the groups included student volunteers.

Alumni team: Boys & Girls Club, Lincoln Park
Continuing Education: Hartley Nature Center
Chancellor's Office: United Way Bike Swap at Continental Ski
Office of Cultural Diversity: Damiano Center Kid's Cafe
Fine Arts Academy and UMD Voyageurs: Duluth YMCA Healthy Kids Day
Psychology: Duluth Community Garden Program
International Education: YWCA Girl Power

The history of the day of service began in 2011 during the week of Chancellor Black's Inauguration. The Chancellor visited with about 100 students, staff and faculty volunteers during the day.

The core message behind the outreach is an emphasis on the importance of community service, and giving back to a community that enriches everyone's lives. According to the Chancellor, interaction outside of the University, including with neighbors and businesses, is important for everyone.