Communication Associate: Public Relations
| Lori Melton |
lmelton@d.umn.edu
| (218) 726-8830
---
February 9, 2012
Susan Banovetz | Director of External Affairs | 218 726-6141| banovetz@d.umn.edu
Christiana Kapsner | UMD Public Relations Assistant | 218 726-8830 | ckapsner@d.umn.edu
Student-Led ASL and AFA Clubs "Usher" in The Miracle Worker Performance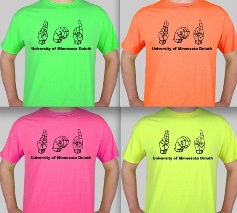 Student volunteers promote disability awareness

When theatre patrons attend the UMD production of The Miracle Worker this Sunday on February 12 at 2 p.m., UMD club members from the American Sign Language (ASL) and Access for All (AFA) campus organizations will usher attendees to their seats. A panel discussion in Montague Hall room 70 will follow the performance. Director of the UMD Office of Disability Resources Penny Cragun and UMD Disability Specialist Emily Norenberg, both who are AFA club advisors, will lead the meeting, while the student-led AFA club will assist with the topics that will range from questions about The Miracle Worker to the wide spectrum of disabilities that exist in society today.

"The AFA club is a student group that is open to anyone and everyone," said UMD senior and AFA club member Judy Breuer. "We cover a broad variety of topics. As peer leaders, students gain leadership experience, activism skills, and a deeper understanding of disabilities and the issues surrounding them."

Before The Miracle Worker performance, the students are also sponsoring a t-shirt table with Champ the mascot, starting at 1 p.m. in the lobby of the Marshall Performing Arts Center. The sale of the brightly colored t-shirts, which were designed by UMD ASL club president Kendra Eisenschenk, will benefit the outreach and advocacy for disability awareness that both clubs maintain as their credo.

"The two UMD clubs came together and planned this volunteer opportunity at a play about Helen Keller—the very person who epitomizes disability awareness," said sophomore Eisenschenk. "These clubs are about promoting awareness on campus and around the community. The Miracle Worker performance is open to everyone, and as students, we wanted to show our support for this incredible play and what Helen Keller accomplished in her lifetime. At the same time, we wanted to illustrate how our clubs value complete awareness and inclusivity."

Presented by the UMD Theatre, The Miracle Worker performances are American Sign Language interpreted, and supported by a collaborative effort by the School of Fine Arts and the College of Education and Human Service Professions.