Communication Associate: Public Relations
| Lori Melton |
lmelton@d.umn.edu
| (218) 726-8830

---
February 24, 2012
Susan Banovetz | Director of External Affairs | 218 726-6141| banovetz@d.umn.edu
Christiana Kapsner | UMD Public Relations Assistant | 218 726-8830 | ckapsner@d.umn.edu
National Dance Marathon Celebrates Children's Hospitals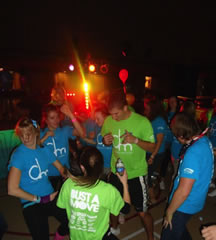 2011 Dance Marathon

UMD students organize on-campus event

The overnight dance marathon begins Friday, February 24 at 7 pm featuring multiple DJs, music performers, food, games, and group dance lessons. The dance marathon, which ends the following morning at 6 am, is in conjunction with a national movement to raise funds for the Children's Miracle Network Hospitals. The cross-country system of hospitals works to raise money locally and donate the funds locally. The entrance fee is $20 per person, and the public is welcome to attend.

Consisting of 10 hours of dancing and activity in the UMD Kirby Student Center Ballroom, the dance marathon is the biggest student-run celebration of the year. As a nationwide movement, the event involves college and high school students at over 150 schools across the country, raising money for the Children's Miracle Network hospital in their community. At the University of Minnesota Duluth, the student-run philanthropy is in its second year as a student organization.

"Our goal is to raise funds for Gillette Children's Specialty Healthcare," said Anna Tucker, senior liberal arts student and director of the event. "We want to change how the community perceives individuals with 'disabilities'."

The event features DJ Risky Fingers, J.Peach, Guante and Big Cats, performances from KOB, Soundsick, and many other musical acts. Dance instructors will teach Michael Jackson's Thriller dance, Beyonce's Single Ladies, and UMD's Funk Soul Patrol will be on hand to teach dance steps and choreography. Field day games including Red Rover and Freeze Tag will also be incorporated into the celebration.