Communication Associate: Public Relations
| Lori Melton |
lmelton@d.umn.edu
| (218) 726-8830
---
February 14, 2012
Susan Banovetz | Director of External Affairs | 218 726-6141 | banovetz@d.umn.edu
Christiana Kapsner | UMD Public Relations Assistant | 218 726-8830 | ckapsner@d.umn.edu
Antiracist Author to Speak at UMD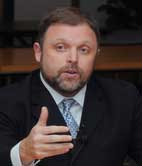 Tim Wise

Event tied to Duluth's UnFair Campaign

One of the most prominent anti-racist writers and educators in the United States, and one of Utne Reader's 25 Visionaries Who are Changing Your World in 2010, will speak on the University of Minnesota Duluth campus at 6 p.m., Thursday, February 16, in the Kirby Ballroom. The event is free and open to the public.

The appearance of Tim Wise, author of Dear White America: Letter to a New Minority, White Like Me: Reflections on Race from a Privileged Son, and other books, is part of UMD's commitment to the UnFair Campaign, a major anti-racism effort launched in Duluth in January.

The UnFair Campaign's goals are fundamental to the change UMD is working to achieve, according to UMD Chancellor Lendley C. Black. "Our Strategic Plan provides the framework for realizing a learning and working environment that reflects the values of equity, diversity, and social justice," he said. "The first step is recognizing that racism and inequality exist. Advancing equity, diversity, and social justice requires persistence and long-term work. I am committed to stay the course and work with Duluth and the campus community until we reach our goals."

For more information about the initiative and for a list of community events, please visit: http://unfaircampaign.org.