Communication Associate: Public Relations
| Lori Melton |
lmelton@d.umn.edu
| (218) 726-8830
---
April 4, 2012
Susan Banovetz | Director of External Affairs | 218 726-6141| banovetz@d.umn.edu
Christiana Kapsner | UMD Public Relations Assistant | 218 726-8830 | ckapsner@d.umn.edu
Nature, Evolution, and Creative Nonfiction
Collection of critical essays examines works by anthropologist and author Loren Eiseley
Contributing scholar Susan Maher, UMD dean of the college of liberal arts, authored the essay "The Places Below: Mapping the Invisible Universe in Loren Eiseley's Plains Essays", and is included as one of the 14 essays in the collection, Artifacts & Illuminations: Critical Essays on Loren Eiseley. Maher also co-authored the introduction, while generating, organizing, and fulfilling the two-year plan for the published book with Tom Lynch, University of Nebraska associate professor of English.

The collection is now available in print, released by the University of Nebraska Press.

"Eiseley's work is about regeneration and change," said Maher. "There is always a sense of tragedy in his works, but he reminds the reader that nature is always present, even within the most urban of settings, shaping and reshaping the human world. He also made science accessible to everyone. In the classroom, he was riveting and fascinating. To this day, many authors attribute their careers to him. He inspired their interest in science, nature, and society."

There are few authors who can truly claim that they created a specific genre, or made one readily available for future generations to study, criticize, and gain wisdom about all things scientific and humane. As time has proven, anthropologist and author Loren Eiseley (1907-1970) is such an author who set the standard for creative nonfiction. His works are highly praised for their in-depth scientific investigation intertwined with the presence of evolution and humanity.

Ever on the edge, Eiseley created a genre that combined the minute observations of a scientist with the many layers of evolution, both figurative and literal. His works examined the presence of nature within the invisible walls of a city; how society addresses and responds to nature's ever-pervading existence.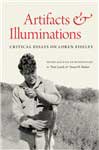 Artifacts and Illuminations, Critical Essays on Loren Eiseley

Book Information
Artifacts and Illuminations, Critical Essays on Loren Eiseley
Edited and with an introduction by Tom Lynch and Susan N. Maher
University of Nebraska Press
http://www.nebraskapress.unl.edu/product/Artifacts-and-Illuminations,674965.aspx