Communication Associate: Public Relations
| Lori Melton |
lmelton@d.umn.edu
| (218) 726-8830
---
September 14, 2011
Cheryl Reitan | Interim director | UMD Public Relations and Marketing | 218 726-8996 | creitan@d.umn.edu
Sherise Morgan | Associate administrator | UMD Department of Theatre | 218 726-8564 | smorgan@d.umn.edu
Film Screening of Philip Pearlstein: Naked Vision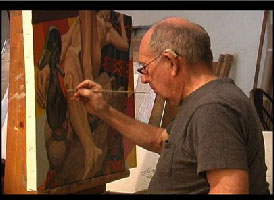 Philip Pearlstein

On Friday, September 16, 2011 at 7:30 p.m. in the Weber Music Hall, the UMD film screening of Philip Pearlstein: Naked Vision will be presented. The film was directed by UMD Art and Design Assistant Professor, Jen Dietrich, and Sarah Nitschke, and produced by Jamie Lustberg, Jen Dietrich, and Sarah Nitschke.

A question and answer session facilitated by Duluth Art Institute Curator, Anne Dugan, will follow the film. A reception will be held in the lobby after the film and discussion.

Free and open to the public.

Additional Information About the Film
Philip Pearlstein: Naked Vision looks at the forces and circumstances that created an artist of singular vision. His extreme 'focus' allowed him to ignore rejection from critics, peers, museum boards, and even his first dealer to become the collected and respected artist he is today. The film explores this lesser-known, yet major figure of the international art world.

Biography about Philip Pearlstein
For over sixty years Pearlstein has held fast to the same painting subject: the naked model in the artist's studio. The only changes have been the inclusion of his personal collection of quirky global artifacts and American folk art amidst the models. While some painters change styles and subjects regularly, Philip has stayed on the same path. Now 86 years old, Pearlstein has outlived many of his art world peers and is one of the last of a generation of artists—Pollock, DeKooning, Warhol—who forged new definitions of American art and shifted the center of the art world from Europe to America. Today, Pearlstein continues to paint nude models in his studio.