Communication Associate: Public Relations
| Lori Melton |
lmelton@d.umn.edu
| (218) 726-8830
---
October 5, 2011
Cheryl Reitan | Interim director | UMD Public Relations and Marketing | 218 726-8996 | creitan@d.umn.edu
James Klueg | Professor | UMD Art and Design | 218 726-7527 | jklueg@d.umn.edu
Faculty Art Show at the Tweed Museum of Art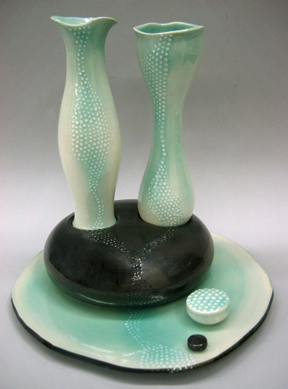 Faculty Art Show

An exhibit of artwork by UMD Art and Design faculty will be on display at the Tweed Museum of Art from now through March 4, 2012.

An opening reception will be held on Tuesday, October 11 from 5-7 pm. The Tweed Museum of Art and the reception are free and open to the public.

James Klueg, head of the Department of Art and Design, welcomes the opportunity for Art and Design faculty to exhibit their work. "A lot of our professional activities are shown in other parts of the country. This is a chance for students and the general Duluth public to see what we do," he said.

All media are represented in the show, as are a variety of styles and art-making techniques.

"For the regional community, the faculty exhibition functions as a model of what trends characterize the contemporary art world. Most of the artists represented in the exhibit pursue careers as independent artists and designers in addition to their teaching responsibilities at UMD," said Ken Bloom, director of the Tweed Museum of Art.

Assistant Professor Elizabeth (Liz) James teaches classes in all areas of ceramics. As an artist, she works in porcelain creating "landscape vignettes" in which she explores how regionalism effects who we are. She believes it's important for students to see faculty work. "It is a visual experience," she said. "It's great for them to see the professional side of being an artist and to see our work in person."

In addition to James Klueg and Elizabeth (Liz) James, faculty members who will be featured at this event include: Alison Aune, Steve Bardolph, Fatih Benzer, Jayme Christine, Gloria DeFilipps Brush, Jen Dietrich, Betsy Hunt, Jeffery Kalstrom, Janice Kmetz, Victoria Lehman, Wanda Pearcy, Ryuta Nakajima, Matthew Olin, Robert Repinski, Joellyn Rock, Eric Stykel, and Mariana Waisman.

This activity is made possible in part by a grant provided by the Minnesota State Arts Board, through an appropriation by the Minnesota State Legislature and a grant from the National Endowment for the Arts. For more information, visit the Tweed Museum of Art website.