University of Minnesota Duluth has announced the following faculty award recipients for the 2010-2011 academic year. The winners were honored at a reception at UMD on May 4.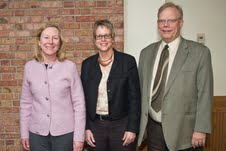 Chancellor's Award for Excellence
This award recognizes faculty who have made contributions to the teaching mission of UMD that are of extraordinary quality and reflect UMD's emphasis on high quality undergraduate and graduate education. This award honors faculty for innovative pedagogy, development of creative and critical thinking, student mentoring, commitment to liberal education, and leadership and impact within a department.

Paula J. Pedersen, assistant professor, Psychology, CEHSP
Paula J. Pedersen is an assistant professor of psychology at UMD. She holds a B.A. from Luther College (cum laude) with a double major in psychology and communications, an M.A. in educational psychology/counseling from UMD, and an Ed.D. from the University of Minnesota in Educational Policy and Administration with an emphasis in teaching and learning.

A licensed psychologist, she worked as a school counselor and community therapist prior to joining the faulty at UMD in 1990. Along with her love of teaching, Pedersen has a deep passion for addressing issues of equity and justice. She is very involved in the campus community at UMD including the Campus Climate Change Team, Diversity Commission, GLBT Advisory Commission, and CEHSP's Social Justice Action Coalition.

Pedersen's research focuses on teaching pedagogy and learning outcomes. She has published in the areas of program evaluation, teaching and learning, and human sexuality. Her current research looks at the "pedagogy of change" and intercultural effectiveness as a student learning outcome. She has presented her work at national and international conferences. In 2009, she received the CEHSP teaching award and in 2000 she earned the CEHSP Outstanding Faculty award and UMD's Outstanding Advisement award.

Chancellor's Award for Outstanding Public Service
This award honors faculty who have demonstrated extraordinary and sustained commitment to public service and community engagement. This award recognizes faculty who have demonstrated an integration of civic and community engagement in their teaching; shown leadership in advancing students' civic learning; conducted community-based research; fostered community partnerships; promoted the scholarship of engagement among his/her colleagues; or made contributions to positive change on issues of public concern.

Sandy Woolum, associate professor, Psychology, CEHSP
Sandy Woolum has a Ph.D. from Michigan State University. She is an associate professor of psychology and a licensed psychologist. She has been affiliated with the Duluth YMCA for more than fifteen years and has served as the program evaluator for Mentor Duluth, True North AmeriCorps, 21st Century Out of School Time Programs, and the Lake Superior Initiative. Her community connections have provided numerous opportunities for psychology interns, honors students, and research students.

Chancellor's Distinguished Research Award
Faculty members who receive this award are honored for their excellence in research, scholarly contributions to their field, and for their dedication to student research in education.

Aydin Yucesan Durgunoglu, professor, Psychology, CEHSP
Aydin Yucesan Durgunoglu received her B.S. in psychology from Middle East Technical University, Ankara, Turkey and M.S. and Ph.D. degrees in cognitive psychology from Purdue University. She has been a visiting professor at Bogazici University in Istanbul and teaches cross-cultural psychology with colleagues at Linnaeus University (Sweden) and Makerere University (Uganda). Durgunoglu's main research area is language and literacy development in different contexts, such as monolinguals speaking different languages. She also studies how first-language literacy skills of bilinguals influence their second language literacy development. Her work has been supported by the National Institutes of Health and the Spencer Foundation. She has authored more than thirty papers and book chapters, delivered over sixty conference presentations, and edited two books. Moving the theoretical work to a more applied setting, she and her colleagues have developed an adult literacy program in Turkey and have been researching its impact. The program, which won a UNESCO literacy prize in 2005, has reached over 100,000 people, mostly women with no or a few years of schooling.

Her adult literacy works in the United States is examining how Hmong- and Spanish-speaking adults develop English literacy skills and comprehend complex information, such as healthcare. She is currently serving as a member of a National Academies taskforce on Adolescent and Adult Literacy. She is guided in her research by the principle that education is a basic human right and literacy empowers people.

Outstanding Faculty Adviser Awards
Outstanding Faculty Adviser Awards are given each year to faculty members who have demonstrated outstanding service to their students.
• Jefferson Campbell, assistant professor, Music, SFA
• Ed Downs, assistant professor, Communication, CLA
• Kent Brorson, associate professor, Communication Sciences & Disorders, CEHSP
• Dan Pope, associate professor, Mechanical & Industrial Engineering, SCSE
• Steve Castleberry, professor, Marketing, LSBE

Albert Tezla Teacher/Scholar Award
This award is given annually to a faculty member in the College of Liberal Arts or the School of Fine Arts who has an exceptional and effective teaching style that emphasizes the worth of research in a learned discipline and the maturing impact scholarly activity has on the development of human attitudes and values.

Stanley R. Wold, professor, Music, School of Fine Arts
Stanley R. Wold joined the UMD music faculty in the fall of 1984. Since that time, he has taught undergraduate choral conducting, secondary vocal music education and voice, and support courses for the master of music degree. Having earned degrees from Concordia College (Moorhead), University of Southern California, and University of Cincinnati College-Conservatory of Music, Wold is now head of the voice area and director of choral activities. His research has been in two primary areas: seeking out and performing choral music from global sources, and organizing and conducting an auditioned civic chamber choir in the Twin Ports (Arrowhead Chorale). Wold has conducted UMD's University Singers at state and regional conferences of the American Choral Directors Association and the Music Educators National Conference, and in venues such as the National Stage in Nairobi; cathedrals in Paris, Vienna, Berlin, San Jose (Costa Rica); an arts center in Dar es Salaam; and Carnegie Hall. He has been an American delegate at world symposia of the International Federation for Choral Music in cities such as Vancouver, Rotterdam, Sydney, Copenhagen, and (August, 2011) Puerto Madryn (Argentina).