Communication Associate: Public Relations
| Lori Melton |
lmelton@d.umn.edu
| (218) 726-8830
---
May 24, 2011
Cheryl Reitan | Interim Director | UMD Public Relations and Marketing | 218 726-8996 | creitan@d.umn.edu
Tricia Bunten | Chief Development Officer | University Relations | 218 726-6995 | tbunten@d.umn.edu
UMD Names Development Director for the College of Education and Human Service Professions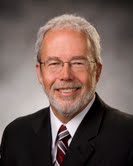 Bob Sherman

The University of Minnesota Duluth has announced that Bob Sherman has been named Development Director for the College of Education and Human Service Professions, beginning his duties on May 9, 2011.

Graduating cum laude from Southern Methodist University where he majored in political science, Mr. Sherman joins UMD with 14 years of fundraising experience, the majority of which has been for educational organizations and colleges.

After earning his Juris Doctor at the University of Texas at Austin in 1977, he practiced law for 14 years, and then served in positions of increasing responsibility in the energy industry, culminating in leading a publicly traded independent electric power company as CEO and a member of the Board of Directors. He has also led Character Education Partnership in Washington, DC as CEO and the School of Business and Technology at the College of St. Scholastica as dean. At the University of St. Thomas in St. Paul, he taught leadership and business ethics courses in the Master of International Management program. His business experience includes working on transactions in 16 countries, including four years in the People's Republic of China.

Mr. Sherman is active in the Rotary Club of Duluth where he will serve as chair of the International Service committee for 2011-12. Rotary District 5580 chose him to be its Distinguished Rotarian for 2010-11 for work leading to the establishment of a new school for disabled children in Russia. He has also been a leader in a project creating new capabilities for a clinic in Basra, Iraq to supply prosthetic limbs to Iraqis injured in the war. He has 5 adult children and enjoys sea kayaking, skijoring and winter camping.