Communication Associate: Public Relations
| Lori Melton |
lmelton@d.umn.edu
| (218) 726-8830
---
May 13, 2011
Cheryl Reitan | Interim Director | UMD Public Relations and Marketing | 218 726-8996 | creitan@d.umn.edu
Kjell Knudsen | Dean | UMD Labovitz School of Business and Economics | 218 726-7288 | kknudsen@d.umn.edu
Praveen Aggarwal | Head | UMD Marketing | 218 726-897 | paggarwa@d.umn.edu
Rajiv Vaidyanathan | Professor | UMD Marketing | 218 726-6817 | rvaidyan@d.umn.edu
New Undergraduate Degree Program Combines Marketing and Analytics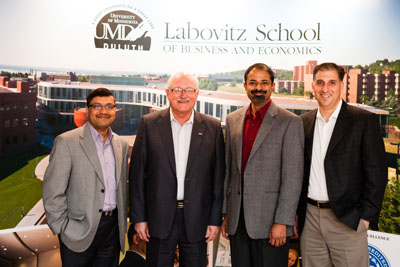 Praveen Aggarwal, Kjell Knudsen, Rajiv Vaidyanathan, and DemandTec Vice President of Corporate Marketing, Armen Najarian

UMD has established the Marketing Analytics Program (MAP), among the first of its kind nationwide. The Regents of the University of Minnesota approved the program on May 13, 2011. The undergraduate major is available through the Labovitz School of Business and Economics (LSBE) at the University of Minnesota Duluth (UMD).

"For early-career, analytical talent, the program fills a large and previously unaddressed void in the retail and consumer products industries," said Dr. Kjell Knudsen, Dean of LSBE. "Our program is designed to attract and nurture the future leaders of the retail sector."

By partnering with DemandTec, a software and analytical services company, UMD is offering a unique curriculum. "The new LSBE program will educate and prepare students to be experts in three specialized areas," said Praveen Aggarwal, head of the UMD marketing department. "They will learn quantitative skills that are directly relevant to retail analytics. They will receive a solid background in marketing and will demonstrate strong written and verbal communication skills. There is a severe shortage of graduates who possess strong quantitative skills and at the same time are good at asking industry-relevant questions. Firms need graduates who understand consumers, can make use of large datasets for predictive analytics, and can communicate results to decision makers."

The program is receiving significant positive response from the industry. "Talent knowledgeable in marketing analytics is in high demand," said Diane Harper, Group Vice President of Consumer Insights and Strategy at Supervalu, Incorporated. "Yet, the availability of individuals with these specialized and highly coveted skills is scarce. By starting the MAP Program, the Labovitz School of Business and Economics at UMD is creating a pipeline of local talent that would be a great benefit to companies, including Supervalu, Incorporated."

Mr. George Goldfarb, maurices Chief Operating Officer, states that, "as a national retailer, maurices is in a position where we collect massive volumes of data. We know that some very useful and managerially relevant insights can be obtained from this data that can help us serve our customers even better. We are excited about LSBE's MAP program that will produce graduates who are specifically trained in gleaning insights from large datasets. The industry desperately needs more talent in this domain and LSBE is targeting an important niche by starting this innovative program. We are looking forward to supporting this cutting-edge curriculum."

Students accepted into the MAP program will have the opportunity to build a strong foundation of statistical analysis know-how and directly apply advanced marketing techniques to the real world. Participation in the program will give students the skills necessary to make more strategic merchandising and marketing decisions throughout their career.

"The program is designed to be a standalone major within LSBE's BBA degree program," stated UMD marketing professor, Rajiv Vaidyanathan. "Graduates of the program will help industry leaders make more efficient, data driven decisions. This program is unique in that it is a comprehensive degree program in Marketing Analytics, with a full-time program director and an analytics lab where students will be trained in the use of sophisticated software. Recent advances in computing technology and software solutions have created an industry opportunity where companies can convert vast amounts of data that they collect everyday into useful and usable insights that can inform managerial decision-making."

Program Information
Student recruitment will begin this summer with approximately 20 students accepted into the program for the fall 2011 semester. The interview process will help identify and recruit juniors who are ready to handle the rigorous coursework. The program will focus on training students with skills for careers in the retail and consumer products industries. Coursework includes internships and lab experience with DemandTec software and training databases.

About the Labovitz School of Business and Economics
Approximately 2100 undergraduate and 70 graduate students are currently enrolled in the school's programs. Both the undergraduate and graduate programs are AACSB-International accredited. The school is housed in a brand new state-of-the art building with 48 full-time faculty members in five academic departments: Accounting, Economics, Finance and Management Information Sciences, Management Studies, and Marketing.

About DemandTec
DemandTec (NASDAQ: DMAN) connects more than 350 retailers and consumer products companies, providing common solutions to transact, interact, and collaborate on core merchandising and marketing activities. Their services enable customers to achieve their sales volume, revenue, shopper loyalty, and profitability objectives. The software and analytical services utilize a science-based platform to model and understand consumer behavior. DemandTec customers have collaborated on nearly four million trade deals. Customers include leading retailers and consumer products companies such as Ahold USA, Best Buy, Con-Agra Foods, Delhaize America, General Mills, H-E-B Grocery Co., The Home Depot, Hormel Foods, Monoprix, PETCO, Safeway, Sara Lee, Target, Walmart, and WH Smith.