Communication Associate: Public Relations
| Lori Melton |
lmelton@d.umn.edu
| (218) 726-8830
---
June 9, 2011
Cheryl Reitan | Interim director | UMD Public Relations and Marketing | 218 726-8996 | creitan@d.umn.edu
Vince Magnuson | Vice Chancellor | UMD Academic Administration | 218 726-710 | vmagnuso@d.umn.edu
UMD Vice Chancellor Recipient of the 2011 William Plater Award for Leadership in Civic Engagement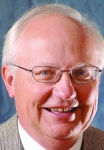 Vince Magnuson

During the annual meeting of the American Association of State Colleges and Universities (AASCU) American Democracy Project in early June, Vince Magnuson—UMD Vice Chancellor for Academic Administration and AASCU Chief Academic Officer (CAO)—was presented with the 2011 William Plater Award for Leadership in Civic Engagement. This award recognizes a CAO for their leadership in institutionalizing civic engagement on their campus.

The award committee selected Magnuson because of his commitment to fostering civic outcomes for students. As a CAO, Magnuson serves as a vital link between the academic community and the externally oriented leaders of the campus; namely the presidents, chancellors and trustees.

"Chief academic officers make a critical difference in articulation of purpose, in the alignment of actions, and in the quality, scope and effectiveness of institutional performance," said Cecilia Orphan, the national manager for the American Democracy Project. "The Plater Award is the first national award established specifically to honor and recognize CAO's for their leadership in higher education."

For more information about Vince Magnuson, see
http://adpaascu.wordpress.com/2011/06/08/announcing-the-winner-of-the-2011-william-plater-award-for-leadership-in-civic-engagement/

http://www.d.umn.edu/unirel/homepage/11/magnuson.html

About the Plater Award
The Plater Award is presented annually to an AASCU chief academic officer. The Award recipient receives an engraved commemorative gift to acknowledge the national recognition and a check for $1,000. The award recipient is announced each year at the annual meeting of the AASCU American Democracy Project in June.