Communication Associate: Public Relations
| Lori Melton |
lmelton@d.umn.edu
| (218) 726-8830
---
June 28, 2011
Cheryl Reitan | Interim director | UMD Public Relations and Marketing | 218 726-8996 | creitan@d.umn.edu
Kirk Kersten | Chief engineer | UMD KUMD FM Radio | 218 726-7181 | kkersten@d.umn.edu
The Association of Minnesota Public Education Radio Stations Names Broadcaster of the Year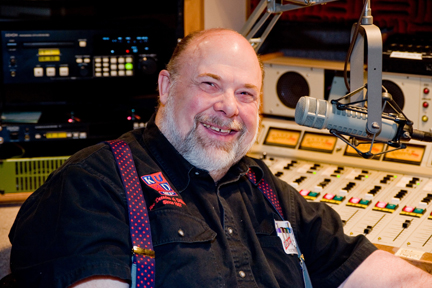 Kirk Kersten

The Association of Minnesota Public Educational Radio Stations (AMPERS) named UMD Chief Engineer of KUMD, Kirk Kersten, Broadcaster of the Year at the AMPERS annual meeting on June 17. Kersten has been with KUMD for over 25 years.

"Kirk is on-call 24 hours a day and is always willing to come back to the station whenever there is any mechanical issue," said KUMD station manager, Vicki Jacoba. "He often puts in 10-12 hour days to finish a project so his colleagues can complete their tasks to keep KUMD on the air with timely material. He researches the newest and most compatible equipment or systems that are cost effective, but of the highest quality, to keep repairs or replacements to a minimum. Our air quality is spectacular, and Kirk deserves full credit for the accomplishment."

In the last 18 months, Kersten has been responsible for the following upgrades to KUMD:

• Installation of a new microwave system
• Installation of an automation system
• Installation of a web or phone remote monitoring system
• Installation of a ripping computer for future scheduling of the music library
• Completed networking of four computers: allowing staff to do production work from their offices, thereby freeing up the production studio

Additional Information

KUMD-FM (103.3 FM) is UMD's 95,000-watt public radio station. It was founded by students at UMD in 1957. The station primarily carries an adult alternative radio format, but also has a number of programs focusing on jazz, blues, and other genres. KUMD airs its college oriented programming after 9 pm CST, under the moniker, "The Basement." The station streams audio from its website, www.kumd.org.

AMPERS is a voluntary association of 12 independently licensed, locally responsive, community-based noncommercial radio stations with signals that cover nine-tenths of Minnesota's area and 92% of its population. The association presents one Broadcaster of the Year award annually. Station personnel are judged on the basis of programming, production, engineering, development, marketing, and community involvement.