Communication Associate: Public Relations
| Lori Melton |
lmelton@d.umn.edu
| (218) 726-8830
---
January 11, 2011
Susan Beasy Latto, Director, Media and Public Relations 218 726-8830 slatto@d.umn.edu
Bob Nygaard, Dept of Athletics Communications Director 218 726-8191 bnygaard@d.umn.edu
UMD FOOTBALL COACH BOB NIELSON LANDS ANOTHER
PRESTIGIOUS NATIONAL COACH-OF-THE-YEAR HONOR
There aren't many postseason honors which have eluded the grasp of Bob Nielson during his prosperous 18-year collegiate head coaching career, but the American Football Coaches Association Coach of the Year Award was one of them.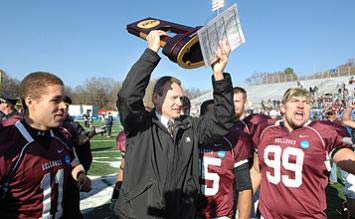 Until now.
Today, the AFCA named Nielson its 2010 Division II Coach of the Year, one day after he received a similar national award from Liberty Mutual. Under Nielson's expert guidance, the University of Minnesota Duluth went 15-0 this past fall and captured its second NCAA Division II title in three years. In addition, the Bulldogs reigned as the Northern Sun Intercollegiate Conference champions for a third straight year (a program first) and produced some 16 All-NSIC North Division picks and three All-Americans.
In his eight seasons with the Bulldogs (1999-2003 and 2008-present), Nielson has rolled up a 79-21 record, won four NSIC crowns and earned four NCAA II playoff berths. His .790 career winning percentage is by the far best of any coach in the 78-year history of Bulldog football. Nielson, 51, previously served as the head coach at Ripon College (1989-90), Wartburg College (1991-95) and the University of Wisconsin-Eau Claire (1996-98) and is now owns a 149-54-1 career coaching mark.