Communication Associate: Public Relations
| Lori Melton |
lmelton@d.umn.edu
| (218) 726-8830
---
August 9, 2011
Cheryl Reitan | Interim director | UMD Public Relations and Marketing | 218 726-8996 | creitan@d.umn.edu
Jim Miller | Professor and geology camp instructor | UMD Department of Geology | 218 726-6582 | mille066@d.umn.edu
UMD's Precambrian Field Camp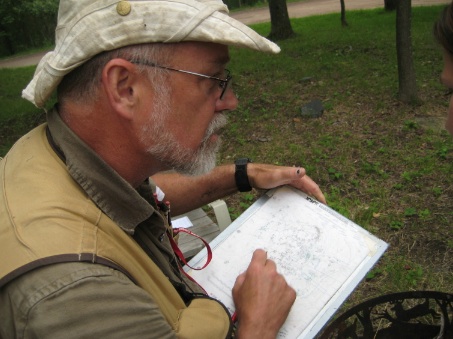 UMD Geology Professor, Jim Miller, with the geological mapping of the Precambrian terranes in northern Minnesota

UMD Geology Professor, Jim Miller, along with co-leaders Dr. George Hudak and Dean Peterson—both affiliated with the UMD Natural Resources Research Institute—are leading the fifth UMD Precambrian field camp for geology majors from now until August 20, 2011. The students accepted into the program are from universities throughout the United States, as well as from UMD. Most geology degrees have a capstone that requires field experience. Potential employers also consider geologic field experience necessary for job candidacy.

"Students from our geology field camp," said Miller. "Learn a special skill set that is in great demand locally and globally."

Daily field exercises are scheduled throughout northern Minnesota, including the North Shore, Ely, and the Mesabi Range. Miller and the 22 geology students accepted into the camp focus on mapping the Precambrian terranes of the region.

The Precambrian era began 4.5 billion years ago with the planet's creation. It ended almost four billion years later with the emergence of multi-celled life forms. UMD's Precambrian field camp is an opportunity for students to map different rocks, measure their orientations, and envision the four-dimensional geologic structures beneath the earth's surface.

UMD geology major, Taylor Balogh, has found that the hands-on skills developed during his camp experience are the best part about the program. "I really like the actual mapping," said Balogh. "And seeing how the landscape has changed over all these years."