Communication Associate: Public Relations
| Lori Melton |
lmelton@d.umn.edu
| (218) 726-8830
---
August 1, 2011
Cheryl Reitan | Interim director | UMD Public Relations and Marketing | 218 726-8996 | creitan@d.umn.edu
Lisa Erwin Takes Role as UMD Vice Chancellor for Student Life on August 15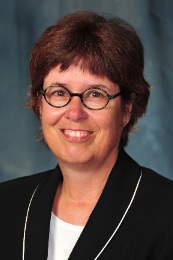 Lisa Erwin

University of Minnesota Duluth Chancellor Lendley C. Black has announced that Lisa Erwin has accepted the position of Vice Chancellor for Student Life, effective August 15, 2011. "Dr. Erwin received strong support from across campus," said Chancellor Black. "We welcome her to the UMD community."

Dr. Erwin is currently the Vice President for Student Development and Enrollment at Bemidji State University in Bemidji, Minnesota, a position she has held for four years.

"I'm very excited to have the opportunity to join the Student Life team at UMD," said Erwin. "I thoroughly enjoyed my visit to the campus, and was very impressed with the University and the people I met. The new strategic plan was a particular draw for me. It's a great honor to have been selected, and I look forward to getting started in August."

Erwin was at the University of Kansas Medical Center in Kansas City from 2001-2007, where she held a series of appointments including Associate Dean of Students, Assistant Dean of Students for Information Resources, Director of Student Financial Aid, and Director of the Student Administration System. Prior to that, she was at Fort Hays State University in Kansas, where she was Assistant Vice President for Student Affairs, Assistant Dean of Students, Director of Student Development, and Residence Hall Director. She was also a Graduate Assistant in the Office of Student Activities and Services for one year at Kansas State University.

Erwin earned her Ph.D. in Counseling and Student Development from Kansas State University in Manhattan, her M.S. in Counseling with an emphasis in Student Affairs in Higher Education at Fort Hays State University, and her B.A. in Economics from Indiana University in Bloomington.