Communication Associate: Public Relations
| Lori Melton |
lmelton@d.umn.edu
| (218) 726-8830
---
April 27, 2011
Cheryl Reitan, Director, UMD Public Relations and Marketing 218 726-8996 creitan@d.umn.edu
Judith Ann Trolander, Professor, UMD Department of History 218 727-4828 jtroland@d.umn.edu
UMD Professor Publishes From Sun Cities to The Villages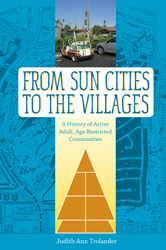 UMD history professor Judith Ann Trolander published the book, From Sun Cities to The Villages: A History of Active Adult, Age-Restricted Communities, through the University Press of Florida.
Chronicling the rise of amenity rich, age-restricted communities for retirees, the book covers active adult communities. Sun City, Ariz. opened in 1960 and was one of the first to ban the permanent residence of children under the age of nineteen. Leisure World Seal Beach opened the following year as the first gated retirement community. Currently The Villages, located in central Florida, is the nation's largest age-restricted community with over 75,000 residents, most of whom are at least 55 years old.
While sometimes controversial, these age-restricted communities have redefined the sense of self-identity among the elderly; changed the popular opinion of retirees; called attention to the attitudes of the elderly toward children; popularized golf course, gated, and amenity rich developments; and made this new, age-restricted lifestyle affordable or accessible to large numbers of retirees--some of whom may actually continue working.