Communication Associate: Public Relations
| Lori Melton |
lmelton@d.umn.edu
| (218) 726-8830
---
September 8, 2010
Susan Beasy Latto, Director, Media and Public Relations 218 726-8830 slatto@d.umn.edu
Mindy Granley, Sustainability Coordinator 218 726-8198 mgranley@d.umn.edu
UMD Bagley Outdoor Classroom
Awarded LEED PLATINUM Certification

First Platinum-Level LEED Certified Building
in the Entire University of Minnesota System
The UMD Bagley Outdoor Classroom has been awarded LEED Platinum certification – the highest level for the green building certification system. LEED stands for Leadership in Energy and Environmental Design; it is an internationally recognized program that offers third-party certification of a building's sustainable features. It is the first PLATINUM LEED Certified Building in the entire University of Minnesota system.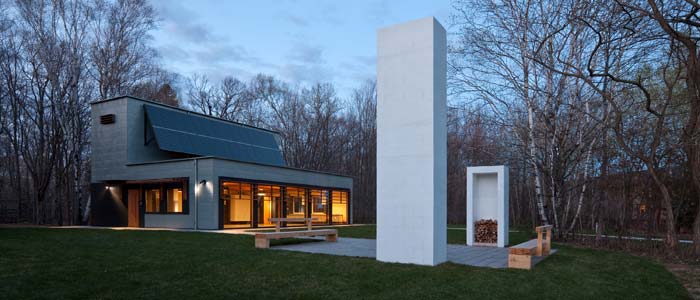 Sustainable features of the Bagley Classroom include: a minimal building footprint, solar passive heating, a 6 kW grid-connected solar photovoltaic array, recycled and reclaimed building materials, and a green roof for treating storm water runoff. The building is super-insulated and was designed to be net neutral for energy consumption.
The nearly 2,000 square foot Bagley Classroom was built largely by UMD Facilities Management staff, and was designed by internationally noted Duluth architect, David Salmela. The Classroom will be used by many UMD departments for education and research, including biology, environmental science, geology, geography, art and drawing, outdoor and recreational programs and early childhood education.
The Bagley Classroom is the fourth LEED certified building on the UMD campus, the others are: Life Science (Silver), Labovitz School of Business and Economics (Gold), and Swenson Civil Engineering (Gold).
More information is available on the UMD Sustainability website (Click on Energy -> Green Buildings): http://www.d.umn.edu/sustain/