Public Grand Opening Event Scheduled for Sept. 8, 2:30 to 3:30 p.m.
The financial planning industry, corporate America and academia will all have their eyes on the Twin Ports with the introduction of an innovative educational partnership between the community, the University of Minnesota - Duluth and the private sector. One of the first labs in the nation, the TD Ameritrade Institutional Learning Lab, developed through a strategic relationship with JNBA Financial Advisors, TD Ameritrade Institutional and the University of Minnesota – Duluth Labovitz School of Business and Economics (LSBE), will provide hands-on, real-world experience for students pursing a career in financial planning. It is scheduled to open on Sept. 8 in conjunction with JNBA's new downtown Duluth office.
The combination learning lab and professional office is located in Duluth's Tech Village at 11 East Superior Street. The learning lab will serve LSBE students, while JNBA's wealth management team will provide Duluth-area residents with independent and customized financial planning and asset management services.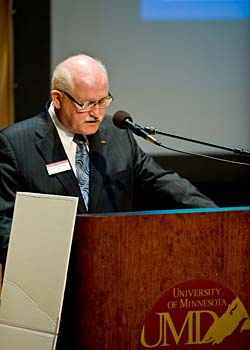 LSBE Dean Kjell Knudsen
"The learning lab is a monumental example of public education and private industry coming together to provide needed resources to develop future leaders, promote student success, enhance the business community and benefit the public through improved financial advice and planning," says Kjell Knudsen, LSBE dean. "JNBA and TD Ameritrade Institutional's dedication to our students and the future of the industry is exceptional. We're proud to be one of the first in the nation to offer this innovative program that will benefit the entire community."
"The new Financial Planning program and learning lab can provide students at LSBE with an edge over others in a competitive marketplace," says JNBA Financial Advisors CEO, Richard Brown. "The real-life experience in a comprehensive environment where financial planning and asset management work hand in hand can make them very attractive to employers as they graduate from college." As an LSBE Senior Fellow and UMD alum, Brown helped develop the learning lab concept in partnership with the university and TD Ameritrade Institutional, a leading provider of comprehensive brokerage and custody services to over 4,000 fee-based, independent registered investment advisors, including JNBA.
TD Ameritrade Institutional's contribution to help create an interactive learning lab, which will be an integral part of LSBE's new Financial Planning program, demonstrates the company's commitment to fostering the next generation of financial professionals. By combining the classroom with the boardroom, students will receive real-life learning opportunities to help open the door to job opportunities, along with the appropriate coursework and experience to apply toward their financial planning exam, which requires two years of experience before undertaking.
"The partners in this endeavor are setting a new standard for collaboration to support our next generation of financial advisors through an innovative learning model," says Tom Bradley, TD Ameritrade Institutional president. "We applaud UMD and JNBA for their forward-thinking efforts to expand an already successful program in a growing field of study. By sharing knowledge, time and leadership we can build a better industry for the students and the investors they will someday serve."
"Responsible leadership, unwavering integrity and ethics, transparency and acting in our clients' best interests at all times are JNBA's core values, which is something that books can't teach," Brown says. "Through the learning lab, LSBE students will be able to see planning in action and learn first-hand. Our team will teach beyond the textbooks, showing students how the financial planning and investment management profession truly impacts lives."
TD Ameritrade Institutional Learning Lab
The learning lab will serve as an innovative, remote classroom, where up to 40 LSBE students each year will work on financial planning projects and coursework using real financial planning software and tools such as iRebal®, TD Ameritrade Institutional's Veo® advisor platform, MoneyGuidePro™ and Morningstar®, as well as receive practical experience working side-by-side with JNBA professionals inside an actual advisory firm. An LSBE director, a faculty member in finance, will oversee the learning lab, and JNBA professionals will work in partnership with LSBE staff to teach students about ethics, client service, operations, and other topics and experiences to help better prepare them for the real world.
While students won't work on actual client accounts or have access to confidential client information, they will be able to participate in discussions about broader financial planning approaches, tactics and anonymous case studies. Due to its downtown location, professionals from the business community will also play an important role as guest lecturers on specific topics and areas of expertise such as estate planning, tax planning, and risk management.
Registration for fall classes is full, with 25 LSBE students enrolled for the first semester. Students will begin using the learning lab during the first semester of this school year.
JNBA Financial Advisors Office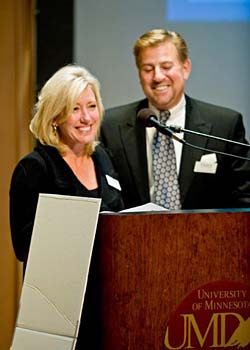 Kim and Richard Brown
JNBA's Duluth office is the first expansion into a new community for the Minneapolis-based firm. JNBA selected Duluth due to Brown's passion for the area, ties to UMD and the opportunity for growth in serving the region's residents with independent, fee-based wealth management services. Their advisory teams specialize in goal-directed asset management and financial planning, and provide advice on future financial direction as well as current financial issues.
Judith Brown founded JNBA in 1979, and was a pioneer in offering fee-based, client-focused financial advice. Today, her son Richard and daughter-in-law Kim continue Judith's vision, concentrating on building the company's client-focused reputation and maintaining the independent, community-focused outlook that JNBA was founded upon. Richard has twice been named one of the nation's top 100 independent wealth advisors by Barron's*, and named Minnesota's #1 Independent/RIA Wealth Advisor. For the first time this year, he was also named one of the nation's top 1,000 advisors in the country by Barron's.* Kim was named one of the Top Women in Finance by Finance and Commerce, and JNBA was also named a finalist in the Minnesota Business Ethics Awards and the Minnesota Family Business Awards.
JNBA proudly supports the communities they serve, and earlier this year, brought their enthusiasm and fundraising power to Duluth, where they dramatically raised the visibility, awareness and fundraising for Special Olympics Minnesota in Duluth. The JNBA team actively promoted the Polar Bear Plunge in Duluth by introducing it to LSBE students, helping to boost fundraising and participation to record numbers. JNBA will continue their support of the Duluth community, and build on the momentum they've started for Special Olympics Minnesota.

Public Grand Opening Event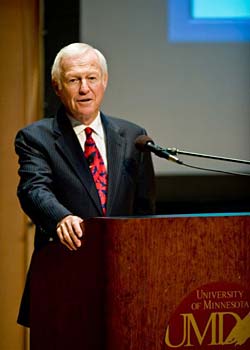 Harvey Mackay
JNBA Financial Advisors will host a public grand opening celebration at the new office and learning lab on Wednesday, Sept. 8, from 2:30 to 3:30 p.m. Richard Brown, Tom Bradley and Kjell Knudsen will introduce the new facility and discuss the partnership and program. The Duluth Area Chamber of Commerce officials and renowned Minnesota businessman and best-selling author Harvey Mackay will also participate in the event. The grand opening will include a ribbon cutting, tours of the new facility, and refreshments.
Earlier in the day, Mackay will address LSBE students at UMD's Weber Music Hall with a presentation full of powerful and compelling advice on how to navigate through the toughest job market in decades, and provide signed copies of his new, best-selling book, Use Your Head to Get Your Foot in the Door: Job Search Secrets No One Else Will Tell You, to all students who attend.
*As rated in Barron's Top 1,000 Advisors appearing in the February 22, 2010 issue. As rated by The Winner's Circle and Barron's Top 100 Independent Wealth Advisors in the August 27, 2007, and August 18, 2008, issues. Rankings and/or recognition by publications should not be construed by a client or prospective client as a guarantee that he/she will experience a certain level of results if JNBA is engaged, or continues to be engaged, to provide investment advisory services, nor should it be construed as a current or past endorsement of JNBA by any of its clients. Rankings published by magazines, and others, generally base their selections exclusively on information prepared and/or submitted by the recognized adviser. A copy of JNBA's current written disclosure statement discussing advisory services and fees is available upon request. Barron's is a trademark of Dow Jones & Company, Inc. All rights reserved.
TD AMERITRADE, Inc. is the firm that JNBA Financial Advisors uses to custody client assets. TD AMERITRADE and JNBA Financial Advisors are separate and unaffiliated firms, and are not responsible for each other's services or policies. TD AMERITRADE does not endorse or recommend any advisor that utilizes its brokerage or custodial services. iRebal products and services property of ThinkTech, Inc., an affiliate of TD AMERITRADE, Inc. Brokerage services provided by TD AMERITRADE Institutional, Division of TD AMERITRADE, Inc., member FINRA/SIPC/NFA. TD AMERITRADE is a trademark jointly owned by TD AMERITRADE IP Company, Inc. and The Toronto-Dominion Bank. © 2010 TD AMERITRADE IP Company, Inc. All rights reserved. Used with permission.