Pair Honored for Support of Medical Education
Representative Huntley is UMD Professor Emeritus
of Biochemistry and Molecular Biology
Minnesota Representative (and UMD Professor Emeritus) Tom Huntley and Senator Linda Berglin were honored as the University of Minnesota Alumni Association 2010 Legislators of the Year at the association's national board of directors meeting on Aug. 24.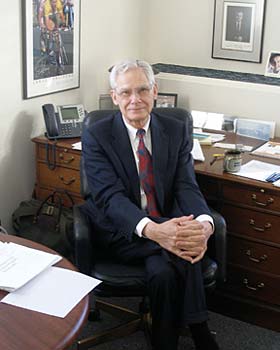 Representative Tom Huntley
"Senator Berglin and Representative Huntley are receiving this award for their strong, enthusiastic support and commitment to the University of Minnesota and to higher education," said Ertugrul Tuzcu, national chair of the Alumni Association. "They are especially committed in their support of medical education and the financing required to meet the health care workforce needs of our state."
UMD Chancellor Lendley C. (Lynn) Black said, "UMD sincerely congratulates Senator Berglin and Representative Huntley on this well-deserved honor. Their strong leadership in medical education plays an essential role for the university. As a UMD professor emeritus and teacher in the Medical School at UMD, Representative Huntley well understands the financial resources necessary for medical education so vital to our state."
During the 2010 legislative session, Berglin and Huntley both played critical roles in the preservation of the Medical Education Research Certificate (MERC) grant program.
MERC's goal is to support the clinical training of health care professionals in all settings, including in rural areas and safety-net facilities.
The MERC fund flows through the federal Medicaid program, with federal matching funds providing the state with additional resources for medical education. The university's Academic Health Center is central to the training of health professionals in Minnesota, and has always been a key stakeholder in the MERC discussions at the state Capitol.
A reduction in the MERC program's funding would have been devastating to the hands-on education and training of the university's students in area hospitals, health and dental clinics, pharmacies and other health care sites.
Each year the Alumni Association honors legislator(s) who exhibit outstanding leadership in support of the University of Minnesota resulting in the passage of or preservation of higher education policy and/or funding.
"Senator Berglin and Representative Huntley are true champions of medical education," said Phil Esten, president and CEO of the Alumni Association. "They value the work of the Academic Health Center schools, and have been tremendously supportive of our efforts over many years."
Huntley is serving his ninth term, representing District 7A in Duluth. He chairs the Health Care and Human Services Finance Division of the House's Finance Committee. He is a UMD Professor Emeritus in Biochemistry and Molecular Biology and a teacher in the Medical School on the UMD campus. Berglin, who represents District 61 in Minneapolis, is serving her ninth Senate term. She chairs the Health and Human Services Budget Division of the Senate's Finance Committee.