Communication Associate: Public Relations
| Lori Melton |
lmelton@d.umn.edu
| (218) 726-8830
---
October 19, 2010
Susan Beasy Latto, Director, Media and Public Relations 218 726-8830 slatto@d.umn.edu
Lawrence Johnson, Development Director. LSBE 218 726-6696 lpjohnso@d.umn.edu
Kjell Knudsen, Dean LSBE 218 726-7288 kknudsen@d.umn.edu
UMD Labovitz School of Business & Economics
Receives $500,000 Gift
The UMD Labovitz School of Business and Economics has been presented with a $500,000 estate gift from Richard and Kim Brown. This is the second largest gift ever to be given to the Labovitz School.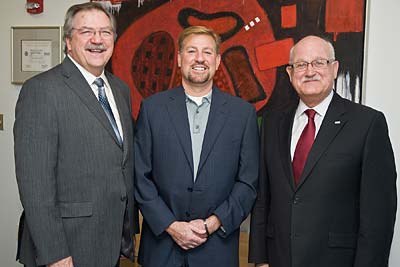 UMD Chancellor Lendley C. Black, Richard Brown, LSBE Dean Kjell Knudsen
Richard Brown is CEO and Kim Brown is President of JNBA Financial Advisors in Minneapolis. JNBA recently opened an office in the Tech Center in Downtown Duluth. The office also houses the Ameritrade Institutional Learning Lab which provides hands-on, real-world experience for UMD students pursuing a career in financial planning.
UMD Chancellor Lendley C. (Lynn) Black said, "Richard and Kim Brown are strong and dedicated friends of UMD. They are committed to the importance of providing student learning and growth both in and out of the classroom. UMD is very grateful for their vision, friendship and support."
Mr. Brown began offering LSBE student internships at his firm in 2008, and continues to work with UMD to provide experienced-based learning opportunities for students. Brown said, "If we want a strong next generation, we need to nurture, mentor and help build it."
Brown attended UMD in the 1980's, and was named a Senior Fellow of the Labovitz School in 2010.
Richard and Kim Brown are active in numerous philanthropic endeavors. Last February Richard and Kim joined over 625 "plungers" who jumped into frigid Lake Superior in a grand event staged to raise money for the Duluth Special Olympics. The Labovitz School of Business & Economics was a proud sponsor of the Duluth Polar Bear Plunge that day, joining with the Duluth Police Department and JNBA Financial Advisors in raising a record $100,000 for the Duluth All-Stars. http://www.d.umn.edu/news/2010/March/01.html