Student Has Been Tutored and Mentored Since 9th Grade by UMD Geology Professor Vicki Hansen in the Advanced Study and Mapping of the Planet Venus
Taught Since 7th Grade by Cloquet Teacher Dr. Cynthia Welsh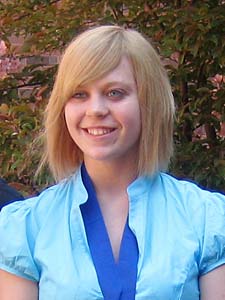 Courtney Jackson
Courtney Jackson, a senior at Cloquet High School will be flying from Duluth on Sunday with a special invitation to visit the President of the United States on Monday morning. She and five other bright young scientists from across the nation will be sharing their science/engineering research with President Obama. Jackson was recommend to present to the President by The American Indian Science and Engineering Society who sponsor the National American Indian Science and Engineering Fair held in Albuquerque, NM (www.aises.org). Jackson has attended this national fair the last four years and each year was one of the top Grand Awards winners.
Since the seventh grade, Courtney has been doing science fair research with her Cloquet High School teacher/mentor Dr. Cynthia Welsh.
Since the ninth grade, she has been tutored and mentored by UMD Geology Professor (and planet Venus expert) Vicki Hansen in the advanced study and mapping of the planet Venus.
Last year, at the University of Minnesota Duluth, Courtney attended the 57th NE MN Regional Science. From that fair she advanced to the Intel International Science and Engineering Fair with over 1,600 students from over 50 countries competing for over $7 million dollars in scholarships and prizes.
Her first research project was an analysis of the effect of acid rain on lichen diversity and density. The following year she expanded her study of lichen and acid rain to include an analysis of the affect of acid rain and proximity to a paper mill on tardigrade (water bear) populations. Both years of study her lichen/tardigrade projects won many regional, state, even national awards.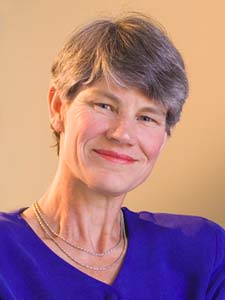 Professor Vicki Hansen
Currently Courtney is working with UMD Professor Vicki Hansen mapping the surface of Venus using Magellan radar data—on an area of Venus never mapped before. She also works with Professor Hansen in learning how to draw cross sections of her maps to further chart the geologic processes that shaped the surface of Venus millions of years ago.
Among other awards, Courtney has been presented the Association for Women in Geoscientist Award and the Society for Exploration in Geophysics Award. Two years in a row, her project at the National American Indian Fair, was selected as NASA's top high school project. Her research papers have been selected to be presented at three Junior Academy of Science Tri-state Symposiums.
Representing the American Indian Science and Engineering Society for the last two years she traveled to their professional conferences, this year in Portland, Oregon where she presented a research poster. Last year, she also presented her work at the American Geological Union (AGU) Professional Conference in San Francisco, CA.
Courtney Jackson
Her research has been mentioned in the 2008 professional publication TLE The Leading Edge: The Society of Exploration Geophysicists. She has a published article in a 2008 edition of the journal John Hopkins University Center for Talented Youth: Imagine Big Ideas for Bright Minds, titled Mapping Venus.