Communication Associate: Public Relations
| Lori Melton |
lmelton@d.umn.edu
| (218) 726-8830
---
November 22, 2010
Susan Beasy Latto, Director, UMD Pubic Relations 218 726-8830 slatto@d.umn.edu
Mindy Granley, UMD Sustainability Coordinator 218-726-8198 mgranley@d.umn.edu
UMD to Hold Sustainability Fair
November 29--30
Chris Paine Keynote Speaker Will Highlight
Future of the Electric Car
Public Invited
UMD will host the Winter Sustainability Fair on November 29 and 30. Noted filmmaker, Chris Paine, will be the keynote speaker. The two-day event kicks off at 7 p.m., November 29, in the Weber Music Hall with Paine's presentation titled "How Many Light Bulbs Does It Take to Plug in an Electric Car?"
The event is free and the public is cordially invited to attend.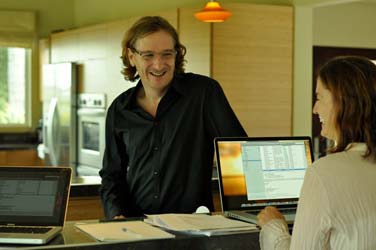 Film maker Chris Paine and his producer Jesse Deeter.
On November 30 at 11 a.m., Paine will discuss "Science, Change and the Art of Storytelling" in the UMD Kirby Student Ballroom. Paine is the creator of the film "Who Killed the Electric Car?" and the upcoming film "Revenge of the Electric Car."
The Fair continues throughout the afternoon November 30:
Noon to 4 p.m.

Displays by local businesses demonstrating their sustainability efforts

1 p.m.

Panel presentations by area businesses discussing their sustainability achievements

2 p.m.

Speaker: UMD Sustainability Coordinator, Mindy Granley, will speak on "What Sustainability Means to UMD's Bottom Line"

3 p.m.

Film: showing of the Chris Paine film "Who Killed the Electric Car?"
This event is free and the public is welcome to attend.
For more information, please visit the UMD Sustainability website: http://www.d.umn.edu/sustain/