UMD College of Science and Engineering has announced the induction of five new members into its Academy of Science and Engineering. The inductees were honored for their outstanding work in the fields of geology, computer engineering, chemistry, general sciences and zoology.
The UMD Academy of Science and Engineering was established to give public recognition to distinguished alumni and special friends of the Swenson College of Science and Engineering who have brought distinction to themselves through their participation, commitment, and leadership in their chosen profession.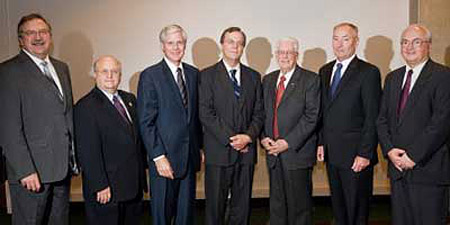 UMD Chancellor Lendley C Black (left) with SCSE Academy Members and Dean James P Riehl (right)
Those named this year are: Dr. Stephen Brand, Mr. Keith Erickson, Mr. Kurt Heikkila, Lt. Gen. Samuel Helland, and Dr. Bruce Warren.
Dr. Stephen Brand, BA Geology 1971
"Life After…The Energy Industry Pathways" October 7, 3:30 p.m., 175 Life Sciences Building
Dr. Stephen Brand is currently the Senior Vice President of Technology for Conoco Phillips and is based in Houston, TX. Dr. Brand received his Bachelor of Arts degree in Geology from UMD in 1971, then went on to earn his MS and Ph.D. degrees at Purdue University. After receiving his Ph.D., Dr. Brand chose to pursue a career in the energy industry. Joining Conoco Phillips as an exploration geologist in 1976, Dr. Brand has gone on to hold numerous senior-level positions, which have involved research and development, exploration, business development, operations, and strategic planning in terms of petroleum, natural gas, and alternative energy resources.
Dr. Brand was the supervisor of development geology from 1982 to 1989 before being named manager of exploration and production for North American business development. In 1992 Dr. Brand became President of Conoco Phillips' Canadian Division where he managed exploration and production operations, which included the production of a major natural gas field in the BC foothills. In 1995 he took on the responsibility of exploration and production manager for international business development; and then, in 1998, became the President of ConocoPhillips' Australia Division. In a five-year period he built the division from a two-person organization to a major gas producer with 356 personnel.
In 2005 Dr. Brand became the Vice President of Conoco Phillips for exploration and business development. Then, in 2007, he assumed the position of Senior Vice President, Technology. In this position Dr. Brand developed a global research and development organization with 600 total personnel, of which about 250 are Ph.D. researchers. As Senior Vice President he directs Conoco Phillips' research and development of new technologies and applications that will enable the company to access and develop non-traditional hydrocarbon reservoirs such as shale oil, gas hydrates, stranded gas, and arctic resources. He also oversees research in a biofuels program that has a significant focus on algae. Finally, he has established a team of researchers to develop innovative technology solutions for existing assets and provide diversification in broader energy businesses, clean technology, and renewable/alternative energy.
Mr. Keith Erickson, Bachelor of Computer Engineering 1987
Mr. Erickson grew up in the Morgan Park neighborhood of far western Duluth during the 1970s. In 1987, he was a member of the first graduating class in Computer Engineering at UMD. From there, he went on to graduate school at the University of Iowa, where he received a Masters degree in Electrical and Computer Engineering in 1989. After a short stint working for a Defense contractor in Southern California, Mr. Erickson returned to Duluth in 1990 to found Saturn Systems - a software engineering and IT consulting firm.
Since then, Saturn Systems has grown from a single person startup company to a well-respected industry leader, with many customers and top quality technical staff. As President and CEO, Mr. Erickson is responsible for maintaining profitable business operations. This involves all aspects of the business, from high level strategic planning, to day-to-day business activities, to maintaining an employee culture that encourages creativity and personal growth. In addition to business operations, he enjoys remaining involved in the technical side of the business - activities which include project management, software engineering, hardware device integration, and computer programming.
Saturn Systems was founded based on principles of technical excellence and ethical business practices. Today, Saturn has over 35 employees in Duluth and Charleston, SC - its growth and success a testament to these underlying core values.
Mr. Kurt Heikkila, MS Chemistry 1979
"Invention and Innovation: The Technical and Business Dilemma" 3 p.m., 175 Life Sciences Building
Mr. Heikkila came to UMD as a graduate student in 1977 after receiving a Bachelor Degree from Concordia College in Moorhead. He chose to pursue his thesis research with Professor Tom Bydalek in analytical electrochemistry and received an MS in Chemistry in 1979. He remained at UMD to work in the laboratory of Professor Robert Carlson on the disinfection chemistry of chlorine, with the resulting development of more environmentally friendly industrial alternatives. He then moved on to the doctoral program in chemistry on the Twin Cities Campus, working with Professor Peter Carr and taking a full complement of graduate courses in analytical and physical chemistry. The course of history was then changed, when both Kurt and his wife, Beth, left their very successful course of studies at the University for careers in industry.
Mr. Heikkila moved through increasing levels of responsibility with such job titles as Project Manager (EcoLab), Manager (Cambrex Corporation), Department Head (Dupont), President and Chairman (Aspen Research Corporation), Senior Vice President (Andersen Corporation), President (Wild River Consulting Group), Director (Onesys), Chairman and President (Tundra Companies), Director (North American Tungsten) and Managing Partner (Tungsten Diversified Industries) all while developing about 50 patents and publications dealing primarily with the composition and application of composites.
Mr. Heikkila is a person of vision who is committed to making a positive impact on society. This has started with his family and then to his "extended family" of many friends and associates who have all participated in the dramatic demonstration on how "green" chemistry can be the basis of a profitable business venture.
Lt. Gen. Samuel Helland, USMC, BS General Sciences 1973
Lt. Gen. Helland is from Crookston, MN and graduated from Lincoln High School in Thief River Falls, MN. He graduated from UMD in 1973 after first serving a term in the US Army Special Forces. He graduated from Marine Officer Candidate School and was selected to attend Navy Pilot training. There, he qualified as a helicopter pilot and began an illustrious career in the Marine Corps. Over the next 27 years, Lt Gen Helland held various command positions in all levels culminating as Commanding General, US Marine Forces Central Command. In this position, he was responsible for all USMC forces in what we call the Central Command Area of Responsibility stretching from the Horn of Africa through the Arabian Gulf region, into Central Asia including Marines conducting combat operations in Iraq and Afghanistan.
Over the course of his career, he was involved in exercises and contingency operations ranging from the Arctic Circle, throughout the Mediterranean and Caribbean Seas and the Persian Gulf. He saw combat in Viet Nam, Desert Storm and our on-going conflict against terrorism. He also participated in and led humanitarian missions in Sierra Leone and the Albania-Macedonia region. As a Logistics Officer he was responsible for all the maintenance and supply issues of a Marine Aircraft Group. He served a tour at Marine Headquarters in Washington, D.C. as a staff officer and on the Joint Staff in the Pentagon.
Lt. Gen. Helland credits the solid science and math background he developed at UMD for his successful career both as an independent operator in Special Forces and especially as a Naval Aviator - completing post maintenance check flights, flying military aircraft off ships, conducting missions, and being a flight instructor.
Dr. Bruce Warren, BS Zoology 1949
"Fireside Chat: Reminiscence of a Multifaceted Career" 3 p.m., 185 Life Sciences Building
Dr. Bruce Warren graduated with a B.A. in Zoology from UMD in 1949. He and his future wife, A. Jane Berry, attended UMD together and were married after Bruce graduated. Jane finished her degree at the University of Minnesota graduating magna cum laude. Bruce completed stints in China and the Pacific with the Marines in WWII and was later Chief of the USAF Aerospace Medicine Weightlessness Section. His work with weightlessness led him to become an aerospace research flight surgeon, earn board certification in aerospace medicine, and conduct research he called, "More fun than work." Before the first manned space launches, Dr. Warren studied the physiological effects of weightlessness by flying zero gravity parabolic flight maneuvers in supersonic jet fighters. When the U.S. entered the conflict in Vietnam, the focus of Dr. Warren's research changed. He flew on combat aeromedical evacuation flights to study lifesaving equipment. Back in the States as commander of the USAF Epidemiology Laboratory in San Antonio, he became involved in the early studies of drug addiction in Vietnam veterans and the relatively high rate of attrition among new Air Force recruits. These studies, along with Dr. Warren's interest in brain biochemistry and human behavior, led him to return to school to become a psychiatric medical doctor. He did his residency at the Wilford Hall USAF Medical Center in San Antonio. Five years after starting his residency, he became chairman of the Psychiatry Department, where he stayed until his Air Force retirement. Following that retirement in 1980, he joined the faculty of the University of Texas Health Science Center at San Antonio, where he continued his career in research, teaching, and clinical practice.