Communication Associate: Public Relations
| Lori Melton |
lmelton@d.umn.edu
| (218) 726-8830
---
November 3, 2010
Susan Beasy Latto, Director, Media and Public Relations 218 726-8830 slatto@d.umn.edu
Thomas C. Johnson Regents Professor of Geological Sciences, Large Lakes Observatory and, Department of Geological Sciences 218-726-8128 tcj@d.umn.edu
See the website at http://www.d.umn.edu/llo/
World's Leading Expert on Mountain Glaciers and Their Disappearance
to Speak at UMD
"Climate Change: The Evidence and Our Options"
November 11
7:30 p.m.
Professor Lonnie G. Thompson, the world's leading expert on mountain glaciers and their retreat under the cloud of global warming, will speak at UMD on Thursday, November 11 at 7:30 p.m. in the UMD Chemistry Building, room 200. The title of his speech is "Climate Change: The Evidence and Our Options". The public is cordially invited.
The lecture is sponsored by the UMD Department of Geological Sciences and the Large Lakes Observatory.
Professor Thompson is a Distinguished University Professor in the Ohio State University School of Earth Sciences and a research scientist in the Byrd Polar Research Center at Ohio State University. His distinguished research focuses on glaciers of the highest tropical and subtropical mountains. He and his Ohio State team have developed lightweight, solar powered drilling equipment to acquire climate histories from ice fields in the Andes, the Himalayas, and Mt. Kilimanjaro in Africa. He and his team spend weeks on mountain peaks above 20,000 feet, overcoming altitude sickness, severe storms and overwhelming technical challenges to achieve their scientific goals. Professor Thompson has been recognized with numerous honors and awards—including the National Medal of Science, the Tyler Prize (the World Prize for Environmental Achievement), and the Dan David Prize.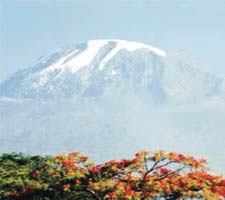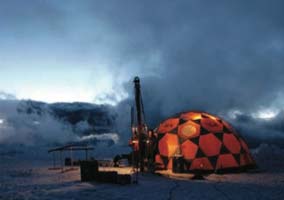 Science Abstract: Glaciers, among the first responders to global climate change, serve both as indicators and drivers of climate change. Over the last 35 years our research team has recovered ice-core records of climatic and environmental variations from the Polar Regions as well as from low-latitude, high-elevation ice fields from sixteen countries. The near global melting of high-elevation glaciers, particularly in the tropics and subtropics, is consistent with climate model predictions that human (greenhouse gas) driven warming will lead to stronger warming at high elevations in the tropics (where these glaciers exist) than at equivalent elevations in the mid-to high latitudes.
The ongoing, rapid retreat of mountain glaciers, and more recently increased melting along margins of the Greenland and Antarctic ice sheets not only contribute to global sea level rise but also threaten fresh water supplies in many of the world's most populous regions. Climatologically, we are in unfamiliar territory and the world's ice cover is responding dramatically. The human response to this issue, however, is not so clear. Even though the evidence from both data and computer models becomes more compelling each year, humans have not responded to the warnings and the rate of global carbon dioxide emissions continues to accelerate.