Communication Associate: Public Relations
| Lori Melton |
lmelton@d.umn.edu
| (218) 726-8830
---
May 12, 2010
Susan Beasy Latto, Director, Media and Public Relations 218 726-8830 slatto@d.umn.edu
Jack Bowman, Dean, UMD School of Fine Arts 218 726-7033 jbowman1@d.umn.edu
Melanie Sever jorda400@d.umn.edu
UMD Graduate Student Speaks at
International Music Festival in the Netherlands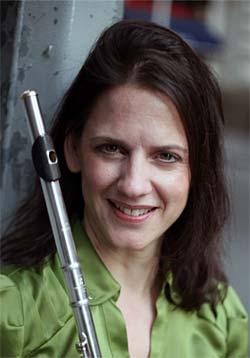 Melanie M. Sever, a graduate student in the Masters in Music Program at the University of Minnesota Duluth (UMD) was invited to present a lecture at the Adams Flute Festival in the Netherlands on April 10-11, 2010. Her invitation was a result of the publication of her recent article entitled, "Head Hunting" in the flute industry online publication Flute Focus and the Dutch Flute Society's print publication, Fluit. Her article is a thorough look at the process of and information needed by flutists searching for a new head joint for their instruments. Ms. Sever presented her lecture on this topic to an international audience of Dutch, Belgian and German participants.
UMD Graduate student, Ms. Sever interviewed many of the top flute makers in the world and industry insiders for her article. At the festival, Ms. Sever also had the honor to play in master classes held by The Royal Concertgebouw Orchestra's prominent principle flutist, Emily Benyon and its piccoloist, Vincent Cortvrint.
In addition to her graduate studies at UMD, Ms. Sever is a freelance musician, private flute teacher. She has performed professionally with the Duluth Superior Symphony Orchestra and United States Marine Corps Bands.
To view the article by Ms. Sever please visit http://www.melaniesever.com/
Or see the flute industry online publication Flute Focus at http://www.flutefocus.com/