In a message to students, faculty and staff of the University of Minnesota Duluth (UMD) today, university President Robert Bruininks announced the appointment of Dr. Lendley (Lynn) Black as the new chancellor of UMD. Black's appointment is effective August 1, 2010, pending Board of Regents approval on May 14. Black would succeed Chancellor Kathryn Martin, who retires July 31.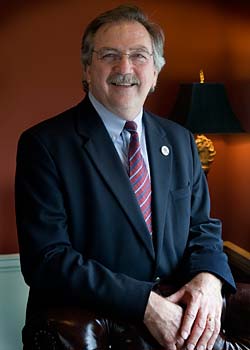 Dr. Lendley (Lynn) Black
"Dr. Black's candidacy for this position received strong support from the Duluth and University communities," Bruininks said. "His demonstrated leadership ability, strong administrative and academic credentials and experience and commitment to communication, collaboration and consensus building made him the top candidate for this position. I strongly believe he has the qualifications and leadership style to drive the unique academic needs of the campus."
Black comes to UMD from Kennesaw State University in Kennesaw, Georgia, where he served as Vice President for Academic Affairs from 2002 until he was promoted in 2006 to his current position as Provost and Vice President for Academic Affairs. He has a long record of senior administrative experience, including nine years as Dean of the College of Liberal Arts and Sciences, three years as Director of Undergraduate Studies and more than three years as Director of Student Advising at Emporia State University in Emporia, Kansas. He earned his Ph.D. in Theatre at the University of Kansas.
"U of M Duluth is very fortunate to have Lynn Black as its Chancellor designate," said Kennesaw State President Daniel Papp. "Lynn is a true academic leader, and even more importantly, he is a fine human being. Kennesaw State's loss is U of M Duluth's gain."
Bruininks said Black has a demonstrated record of success leading comprehensive strategic planning efforts with the full engagement of the campus and surrounding communities; establishing strong and trusting relationships with faculty, staff, and students as well as civic and business leaders in the community; leading significant fundraising efforts for both campus and community organizations; demonstrating a strong personal and professional commitment to the value of diversity; leading several curriculum innovation efforts to better support student learning and success; and serving as a vocal advocate for campus needs and priorities.
"Throughout the interview process and especially during my visit to Duluth, I have been impressed with the outstanding faculty, staff, students, and community partners of this exceptional institution," said Black. "Located on the banks of Lake Superior and part of one of the best public research universities in the world, this is an exciting opportunity and I look forward to this new role."
Bruininks also expressed his appreciation for Martin's service at UMD, calling her time as chancellor a "significant period of growth" for the campus.
Office of the President official announcement:
http://blog.lib.umn.edu/pres/news/2010/05/new-umd-chancellor-announced.html