Mayor Don Ness has proclaimed March 26, 2010 as "Coach Shannon Miller Day." Coach Miller led the Bulldog women's hockey team to their fifth national NCAA Championship this week in a heated triple overtime game against Cornell University. The proclamation will be presented to Coach Miller at a celebration at the Holiday Inn on Friday, March 26, 2010, at 7:00 PM.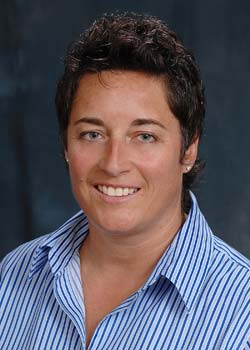 UMD women's hockey coach Shannon Miller
"We in Duluth believe that Shannon Miller is the premier coach in the history of women's hockey. Her teams play with passion, determination, grit, and tremendous skill which has earned the respect and loyalty of this hockey-obsessed city. After eleven incredible seasons that include five national championships, it is clear that Coach Miller is one of the most outstanding leaders in college athletics. Duluthians understand how fortunate we are to have Coach Miller at UMD, this proclamation is just a simple thank you. We look forward to many more years of successful teams, accomplished student athletes, and more national championships!," stated Mayor Don Ness.
Shannon Miller boasts an impressive career prior to joining the Bulldogs. She coached the Canadian women's hockey team to a silver medal win at the 1998 Winter Olympics. Coach Miller made history by being the first and only female head coach of any Olympic hockey team, as well as the youngest.
Coach Miller's additional career achievements as listed in the proclamation are:
"As the only head coach UMD has ever employed, Shannon has amassed an impressive overall record of 291-78-31 and has led the Bulldogs to nine NCAA playoff appearances and five NCAA Championship titles; and
Shannon was named the 2000 and 2003 Western Collegiate Hockey Association Coach of the Year and the 2003 American Hockey Coaches Association Women's Division I Coach of the Year; and
During Shannon's time at the Bulldog helm, UMD has produced 11 first-team All-Americans, 13 Patty Kazmaier Award Finalists, two Players of the Year, three Student-Athletes of the year and one Academic All-American. In addition, twenty-one current and former Bulldogs have represented their respective countries in the Olympics;"