Communication Associate: Public Relations
| Lori Melton |
lmelton@d.umn.edu
| (218) 726-8830
---
March 15, 2010
Susan Beasy Latto, Director, UMD Public Relations 218 726-8830 slatto@d.umn.edu
Sheri Pihlaja, UMD Information Technology Systems and Services 218 726-6975 spihlaja@d.umn.edu
UMD Presents
Techfest 2010
Showcasing Latest Innovative Technologies

Public Cordially Invited
The University of Minnesota Duluth (UMD) will present Techfest 2010 on March 26 from 9 a.m. to 3 p.m. in the UMD Kirby Student Center Ballroom (3rd floor). TechFest is an annual event where faculty, staff and students feature the latest in technology and current learning and teaching trends in use throughout the university. The public, and students of all ages are invited to attend the free event.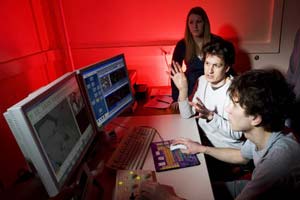 Scanning Electron Microscope Lab
Techfest 2010 will feature twenty-six booths showcasing how all areas of the UMD campus use technology to teach, to learn and to share information. On-going demonstrations will be given throughout the course of the day to show how faculty, staff and students are currently using the newest, cutting-edge technology.
Two featured booths at UMD Techfest 2010 are:
"Moving Lights in the Entertainment Industry" from the UMD Theatre. The UMD Department of Theatre has purchased a lighting control console designed especially for moving lights. Using touch-screen technology, visitors will be able to control color, angle and intensity of lights set up especially for demonstrations.
"Scanning Electron Microscope Lab: Campus Resource for Teaching and Learning" from the Geological Sciences/SEM Laboratory. Live remote operation of microscope via Ethernet connection will be projected onto a screen. Lab staff and users will be available to discuss the amazing applications for research and education.
Access Techfest 2010 online at http://www.d.umn.edu/itss/etrg/techfest/