Saturday, February 20 was a sunny, crisp and cold 25 degrees Fahrenheit when over 625 "plungers" jumped into Lake Superior in a grand event staged to raise money for the Duluth Special Olympics. The Labovitz School of Business & Economics was a proud sponsor of the Duluth Polar Bear Plunge that day, joining with the Duluth Police Department and JNBA Financial Advisors in raising a record $100,000 for the Duluth All-Stars.
Alongside one LSBE Dean (Kjell Knudsen) and one LSBE Financial Markets Program director (Joe Artim)--were hundreds of UMD students, Duluth Police officers and community members who braved the icy waters dressed in a variety of eye-catching costumes and clothing. The frosty air was filled with cheers, shouts, songs and slogans along with the spirit of good fun and fellowship. Duluth Mayor Don Ness led the charge.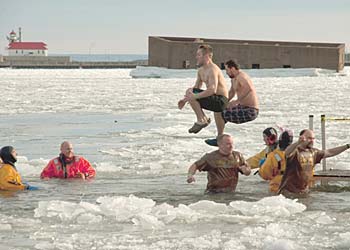 After the "plunge" hundreds of proud revelers gathered at Grandma's Sports Garden in Canal Park for pizza and prizes and winning announcements.
United Health Care of Duluth won first place for Team Fundraising with a grand total of $21,470 raised. Joe Artim, LSBE Financial Markets director, took first place for Individual Fundraising having collected a total of $3,495.00. Joe garnered a prize of a one-year gift certificate ($25 per month) to a local restaurant—a prize which his Lake Superior-initiated students were very eager to share with him.
The grand prize raffle ticket (for those who raised a minimum of $75) was for a 2010 Ski-Doo MXZ600 snowmobile painted with the Labovitz School of Business and Economics and Special Olympics logos, designed by a UMD School of Fine Arts student. Helmet and clothing were included.
The ticket was drawn--and the winner was--Dean Kjell Knudsen! Dean Knudsen graciously returned his matching ticket and asked that there be a second drawing.
That winner was a very grateful and happy young man who was a "plunger" that day. He and his buddies (all "plungers") had raised over $200.
Richard Brown, a newly named Senior Fellow at the Labovitz School, is on the board of Special Olympics Minnesota. LSBE was eager and proud to partner with Special Olympics through Mr. Brown--who, along with his wife--was also a Lake Superior "plunger".
"In the Labovitz School, we have a long history of outreach and engaging students and staff in community causes," said Dean Knudsen. " It's a great thing to do, and I am so proud of what was accomplished that day."
The Duluth All-Stars have approximately 255 athletes and are one of the state's largest delegations. They were awarded the Special Olympics Minnesota "Delegation of the Year" in 2009. The teams compete in 17 different sports, and host five different area competitions in Duluth throughout the year.
Top Fundraisers:
Individuals
Joe Artim
$3495.00
Richard Brown
$3050.00
Jill Foucre
$2145.00
Teams
UnitedHealthcare - Duluth
$21471.66
The FMPlungers
$7333.00
Win This Snowmobile
$4425.00
"The FMPlungers" represented LSBE and was comprised of 14 LSBE Financial Markets Program students, 2 LSBE students close to the Program, Dean Kjell Knudsen, Development Director Lawrence Johnson and Joe Artim.