UMD will be well represented at the 2010 Winter Olympics, February 10-26, in Vancouver, British Columbia. From live updates, to play-by-play commentary, to competition, participants with UMD connections will be involved.
The campus radio station KUMD-103.3 FM will broadcast live Olympic updates every weekday, Monday-Friday, at 9 a.m., February 10-26. UMD will be represented on the curling team, in the administration of the Olympic committee, working for the media, and most impressive of all, by seven current students, seven former students, and one former coach on the teams of five countries in the women's ice hockey competition.
United States: Jenny Potter (2004) and Julie Chu (former coach 07-08) will play for the U.S. team. It will be Potter's fourth Olympic competition. As a 19-year-old rookie, she helped her team win Olympic gold in 1998. She became one of the U.S. women team's strongest players, helping them win the silver in 2002 and the bronze in 2006.
Leah Wrazildo (2004), former women's hockey player and Duluth native, will be a Olympic referee for women's hockey in Vancouver.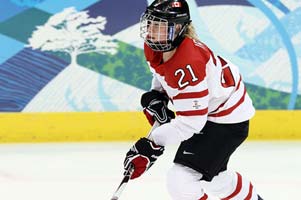 Canada: Current junior Haley Irwin will join former Bulldog alumna and former assistant coach Caroline Ouellette (2005) on the Canadian Olympic Team. Ouellette started with Canada's team in 1999 and helped them win Olympic gold medals in 2002 and 2006.
Sweden: Team Sweden announced that UMD seniors Kim Martin and Elin Holmlov, as well as sophomores Pernilla Winberg and Jenni Asserholt, will represent Sweden. They will join former UMD players Maria Rooth (2003) and Erika Holst (2003).
Finland: Current students Saara Tuominen and Mariia Posa will join former student Heidi Pelttari to skate for Team Finland
Russia: Team Russia will include former UMD students Iya Gavrilova and Kristina Petrovskaia.
Curling: Curling team member and marketing department graduate John Shuster (2007) plays for the Duluth Curling Club. He's been chosen for the second time to represent the United States on the U.S. Curling Team. Shuster was a member of the 2006 U.S. Olympic Team, which won the bronze, America's first Olympic curling medal. Former student Jeff Isaacson of Duluth is also on the team and Phil Drobnick (2003) is the head coach.
Radio live reports: UMD campus radio station, KUMD 103.3 will provide reports about the Olympics and its connection to the Northland. Every weekday, Monday-Friday, at 9 am, beginning on February 10, KUMD staff member Mimmu (Ira) Salmela will report live from the Vancouver Olympics and reports streamed live on www.kumd.org
NBC coverage: Former UMD student Chad Salmela will be a primary color commentator for NBC coverage of the biathlon. He will also be involved in the coverage of cross country skiing – including in the Nordic combined event.
Behind the scenes: Many with UMD connections are working behind the scenes. Former student and UMD goalie Tuula Puputti will work as an administrator for the Finnish Olympic Committee. Kara Salmela (2004 UMD graduate) will be a hospitality host for the biathlon events. Kara competed with the U.S. Biathlon team in the Nagano in 1998 and the Salt Lake City Olympics in 2002. Cory Salmela (1995 UMD graduate) will be serving as a statistician for NBC sports. Cory will also take over broadcasting for KUMD near the end of the Olympic games.
Medical Team: Josh Sandell (1998 UMD graduate) will serve as a member of the Olympics medical staff. Sandell will work as a chiropractor on the multidisciplinary sports medicine team (which includes neurosurgeons, primary care physicians and athletic trainers) providing an integrated approach to care for Team USA at the Performance Service Center.