Communication Associate: Public Relations
| Lori Melton |
lmelton@d.umn.edu
| (218) 726-8830
---
January 10, 2010
Susan Beasy Latto, Director, UMD Public Relations 218 726-8830 slatto@d.umn.edu
James Riehl, Dean, UMD Swenson College of Science and Engineering 218 726-6397 sburns@d.umn.edu
James (Moe) Benda, Director, Iron Range/UMD Graduate Engineering Education Program Instructor, Chemical Engineering 218 290-5366 mbenda@d.umn.edu
Range Resident Named Director of
Iron Range/UMD Graduate Engineering Education Program
James (Moe) Benda of Lakeland has been named director of the new Iron Range/UMD Graduate Engineering Education Program located at Mesabi Range Community and Technical College in Virginia, Minnesota.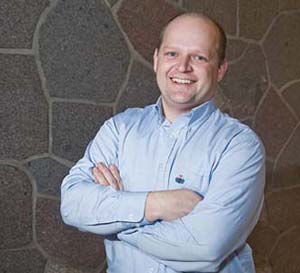 Benda is a chemical engineer who recently came to UMD from airplane manufacturer Cirrus Design. He says, "This engineering program is specifically tailored to the heavy industry of the Iron Range. There are a dozen industries with employees who would like advanced training. In addition to taconite pellet production, we have new industries like wind power and biomass production."
The purpose of the Iron Range/UMD Graduate Engineering Education Program is to provide better access to advanced engineering degree programs for people living and working on the Minnesota Iron Range. Upper division and graduate engineering courses are designed to meet the specific needs of unemployed engineers along with those needing to maintain licensure, upgrade their engineering skills, or broaden their areas of employability. Class times and advisement scheduling will be focused to meet the needs and availability of the Iron Range professional. The courses are designed to enhance professional development and career needs of engineers working in both the public and private sectors.
The program is offered by the UMD Swenson College of Science and Engineering in cooperation with the Arrowhead University Consortium, and has received financial support from the Iron Range Higher Education Committee
Classes are taught by UMD faculty. Those who enroll will be UMD students and will have access to related courses offered on the UMD campus as well as ITV and on-line classes.
Courses in the Iron Range Program will be offered as part of the current graduate degree programs that UMD offers which include:
Master of Science in Engineering Management (MSEM)
Master of Environmental Health and Safety (MEHS)
Master of Science in Electrical and Computer Engineering
Master of Engineering degree program (MEng) with specializations in Civil Engineering. Chemical Engineering, Electrical & Computer Engineering, Industrial Engineering or Mechanical Engineering
For information on the listed programs visit http://www.d.umn.edu/ece/gradProgram/
For additional information or to apply for the program visit http://www.d.umn.edu/scse/degrees/ironRange/
Contact or visit Moe Benda at his Mesabi Range Community and Technical College office (C170)
Office: 218 749-7776 Cell: 218 290-5366 mbenda@d.umn.edu