Despite a slightly colder winter break period than last year, the UMD campus was able to reduce its utility bills and greenhouse gas emissions through energy conservation over the eleven-day winter period of semi closure December 24-January 4. Campus buildings were operated at temperatures lower than normal and with limited ventilation. In addition, the campus community was asked to participate by powering down computers, turning off lights, and unplugging unnecessary items.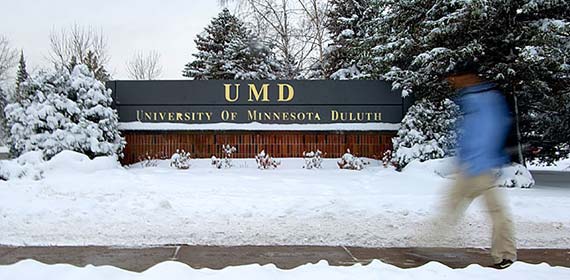 The estimated heating, ventilation and electricity savings for the winter break totaled $18,399.
That eleven-day savings in emissions of greenhouse gases equates to taking 34 cars off of the road for an entire year, or eliminating the annual energy use of nearly 16 homes.
UMD energy savings included the following:
Natural gas use in the campus heating plant was reduced by 2,151 million cubic feet--which translates into 113 metric tons of greenhouse gases.
Monetary savings in natural gas from the campus heating plant were $14,562—a reduction of nearly 13% over the same period last year.
Electricity use was reduced during this period by 79,196 kilowatt-hours--a reduction of 6.3% compared to last year. This translates into a monetary savings of $3,837 and a reduction of 65 metric tons of greenhouse gases.
With campus utility bills nearing $7 million annually, UMD staff are working to find the best balance of supporting campus operations and conserving energy. Heating and powering buildings is the largest source of greenhouse gases for many colleges and universities. In fact, buildings at UMD account for 90% of its emissions each year.
Energy conservation is just one of the pathways to making the UMD campus more sustainable. Other important strategies UMD is working to implement are:
constructing energy-efficient buildings, repairing and upgrading existing buildings to increase energy efficiency, managing waste properly, promoting sustainable commuting choices, and protecting water are also important strategies.
UMD had the first LEED certified building in the University of Minnesota system. The campus currently has two LEED certified buildings—a Gold and a Silver.
The UMD Sustainability Committee will discuss heating and other energy policies as they move to create an over-all Campus Energy Plan.
The campus community is invited to submit ideas or concerns: click the 'Add Your Ideas' button on the UMD Sustainability Blog: http://www.addinguptozero.com/
---
note of explanation:……………What are Greenhouse Gases?
Greenhouse gases are those that trap heat in the atmosphere. They are emitted to the atmosphere through both natural processes and human activities. The majority of greenhouse gases emitted by operations at UMD are from production of electricity that we purchase and the burning of fossil fuels.