Communication Associate: Public Relations
| Lori Melton |
lmelton@d.umn.edu
| (218) 726-8830
---
February 17, 2010
Susan Beasy Latto, Director, UMD Public Relations 218 726-8830 slatto@d.umn.edu
John Hatcher, Associate Professor, Dept of Journalism 218 726-7325 jhatcher@d.umn.edu
UMD Graduate Wins
New Journalist of the Year Award
From Minnesota Newspaper Association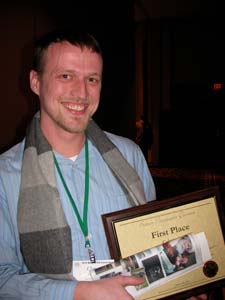 2008 UMD Graduate--Chris Olwell
Chris Olwell, a 2008 graduate of the University of Minnesota Duluth, won first place in the New Journalist of the Year category in the annual Minnesota Newspaper Association's awards competition. The award is given to the best new journalist in the state based on the writing produced during the previous year.
Olwell, a UMD history major and journalism minor, is currently the editor of the Eden Prairie Sun Current.
In choosing Olwell, judges said, "Catchy, narrative-driven leads pull the reader into Chris' stories. He clearly knows how to hook a reader. Equally important is Chris' ability to retain the reader with crisp writing across a variety of topics. It's also important that Chris is embracing new media as the first on his staff to do a daily Webcast. 'New Journalist' must be prepared to deliver content across a myriad of platforms. It appears Chris can look forward to a great future in journalism."
In his time at UMD, Olwell worked as opinion editor for the UMD Statesman before going on to an internship at the Duluth News Tribune. In 2008, he was among a handful of students chosen nationwide to participate in the Poynter Institute for Media Studies Summer Fellows program.
Olwell was also the recipient of the UMD Gustaf Nordin Memorial Scholarship for Journalism in 2008 and the Washburn Prize for History in 2007.