Communication Associate: Public Relations
| Lori Melton |
lmelton@d.umn.edu
| (218) 726-8830
---
February 15, 2010
Susan Beasy Latto, Director, UMD Public Relations 218 726-8830 slatto@d.umn.edu
Dori Decker, Health Educator, UMD Health Services 218 726-7046 ddecker@d.umn.edu
UMD to Host
Award-Winning Documentary Film
"America The Beautiful"

Pursuing Physical Perfection—America's Obsession with Beauty
February 23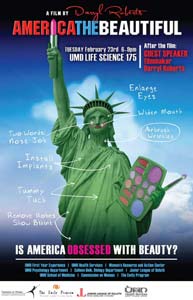 UMD will host a presentation by film producer Darryl Roberts featuring his award winning documentary film "America the Beautiful," on February 23, from 6-9 p.m. in Life Science Building room 175, UMD Campus.
The event is free and the public is cordially invited to attend.
Through the documentary "America the Beautiful" audiences are shown how young women and girls are affected by the increasingly unattainable images of physical perfection that are seen through every form of advertising. Mr. Roberts unveils the deadly risks to pursuing the recent ideals of physical perfection that has become, what Mr. Roberts says is, "America's new obsession." Through numerous interviews from celebrities to everyday Americans, Mr. Roberts continues his mission to find the answer to his big question: "Does America have an unhealthy obsession with beauty?"
Mr. Roberts will facilitate a question and answer session following the film.
This event is a part of the UMD Body Image and Eating Disorders Awareness Week (February 22-27).
For more information on free events during Body Image and Eating Disorders Awareness Week at UMD, please visit the UMD Health Services website http://www.d.umn.edu/hlthserv/
To view a trailer of the film "America the Beautiful" visit http://www.americathebeautifuldoc.com/