Communication Associate: Public Relations
| Lori Melton |
lmelton@d.umn.edu
| (218) 726-8830
---
February 3, 2010
Susan Beasy Latto, Director, UMD Public Relations 218 726-8830 slatto@d.umn.edu
Alison Aune, Associate Professor, UMD Art and Design 218 726-6216 aaune@d.umn.edu
http://www.d.umn.edu/tma/
UMD Presents Civil Rights
Lecture by Documentary Photographer
Sue Sojourner
February 9
Tweed Museum of Art
The public is cordially invited to attend a presentation by civil rights movement veteran and documentary photographer Sue [Lorenz] Sojourner, on February 9, at 12 noon in the UMD Tweed Museum of Art lecture gallery. Ms. Sojourner will speak on "The 60s Civil Rights Movement" in conjunction with her documentary photography exhibit titled "The Some People of the Place - 1960s Holmes County, Mississippi: The Local People and Their Civil Rights Movement."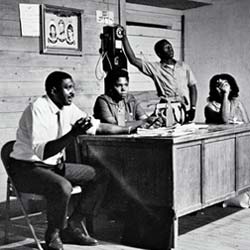 Ms Sojourner's historic photography exhibit is on display at the Venue at Mohaupt Block, 2024 West Superior Street, Duluth (old VFW). It is open weekdays through February 28, from 9 a.m. to 5 p.m.
Sue [Lorenz] Sojourner is a veteran of the Civil Rights Movement. She worked in Holmes County, Mississippi from 1964 to 1969. Ms. Sojourner is currently writing a memoir entitled "FREEDOM: Blacks Transforming Themselves - Growing a Grassroots Movement in the 1960s Mississippi as Seen by One (Transformed) White Middle-Class Outside Agitator." Her memoir tells of the real dangers and fears that local leaders experienced and how they built one of the most effective Grassroots Movements in the state. She has produced two photography exhibitions using reproductions of her original 1960s photographs, and descriptions of the Movement events that she witnessed.
She lives and works in Duluth, Minnesota in a housing cooperative of nearly 40 artists. Ms Sojourn states," Being surrounded by artists in a building with a public art gallery has been critical to realizing myself as an artist and photographer."
This UMD Tweed Museum of Art lecture event is a part of Black History Month and is sponsored by the UMD Commission on Women and the Art Education program in the UMD School of Fine Arts.